Summer work experience at Heath Nursing Care Center helps teens realize their abilities.
When Leesa Anderson began preparing for a summer work experience at Heath Nursing Care Center, she barely spoke to the other teens in her group.
But just two weeks into the program, Leesa was not only smiling and talking with her peers, but stepping up to take on leadership roles.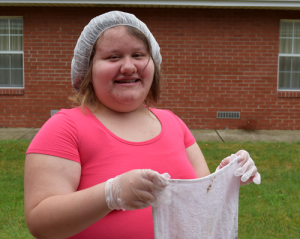 The 17-year-old Licking Heights student said she's never had a summer job before. But the skills she's learned at Heath Nursing Care will stay with her.
"This helps you get ready for a job. I like that," she said. "I like that we work as a team."
Leesa is one of about 44 teens and young adults supported by the Licking County Board of Developmental Disabilities (LCBDD) participating in work experiences and career exploration this summer.
One of her teammates at Heath Nursing Care is Michael Phlegar, 17, of Granville.
"I'm learning a lot here. I'm learning you have to be respectful," Michael said. "I like working as a team but sometimes you have to work by yourself."
Once they decided to pursue summer jobs, Michael and Leesa were connected to Opportunities for Ohioans with Disabilities (OOD), through their LCBDD employment support specialists. When OOD presented them with options, they selected LICCO Inc. to provide their summer work experience.
They spent the first week of the program in a classroom working on employability and soft skills with Gary Lescalleet, a job specialist with LICCO Inc.
Gary spoke to them about respect, confidence and working as a team, as well as getting a job and keeping a job.
They also worked through a curriculum to help the teens think about what they wanted to do after high school.
"We talked about the fact that the first job you ever get might not be the job you have for your whole life," Gary said. "I've reminded them to keep an open mind."
Since they started working at Heath Nursing Care, Michael and Leesa have helped with cleaning and maintenance, while also interacting with the residents.
Every day, they gain more confidence, Gary said.
"When we started, everyone said, 'I can't do this,' but when they realize they can, it's honestly humbling," Gary said. "Now they know they can get a job out in the community."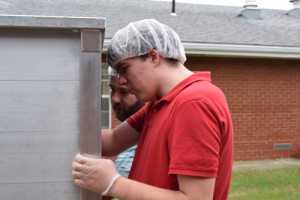 Michael, who is interested in career in social work or human services, said he's learned a lot about flexibility, even when they've had to take on some projects that he wasn't expecting.
He also has made an effort to change his sleep schedule, and stop fidgeting, so he can focus on his job responsibilities.
"He's come a really long way in a short period of time," Gary said. "In just two weeks, he's become an extremely different person."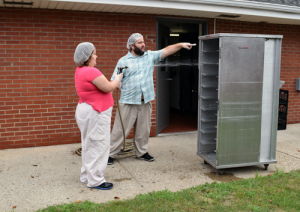 Leesa, who dreams of being a game designer or an animator, has also come a long way when it comes to problem solving and communication, Gary said.
Even though they will only be at Heath Nursing Care for four weeks, Gary is confident that the experience will leave a lasting impression.
"I keep telling them, 'You can do whatever you want.' Everyone just learns things a different way," he said.
For more information about the supports that LCBDD provides to transition youth, go to lcountydd.org/what-is-employment-supports.