Jordyn Hubert, of Granville, will represent Licking County at a statewide leadership forum.
Jordyn Hubert doesn't necessarily describe herself as a leader.
But the 17-year-old Granville High School senior is always willing to step up to make sure new teens in her Young Life group feel welcome and has been involved with recruiting members.
With her enthusiastic personality and long list of extracurriculars, she often leads by example, said her mother Gail Hubert.
That's why Gail and her husband Leonard Hubert encouraged Jordyn to apply for the 2017 Opportunities for Ohioans with Disabilities Youth Leadership Forum —  which will be held in July — and were thrilled when she got accepted to represent Licking County.
"It sounded like a great fit for her," Gail said.
'A positive role model'
Jordyn was one of 50 students selected for the forum, making her the first delegate selected from Licking County in several years.
During the application process, she had the opportunity to share the many activities she participates in.
She plays field hockey for GHS, does spring and indoor track and plays violin in the orchestra. She is also a die-hard Blue Aces fan and can be found cheering at most Granville football games.
Jordyn is very active in the Christian organization Young Life and recently returned from a week of Young Life camp in New York. She helps out in the nursery of her church and prepares meals for the homeless.
She also takes riding lessons at Hope Farm in Granville. In years past, she's been involved with Special Olympics and 4-H.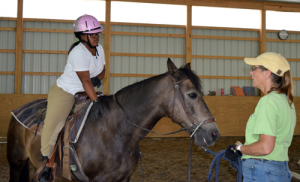 After a successful summer work experience at the Grove by the River last year, Jordyn is getting ready to work for several weeks at Giant Eagle in Heath.
"Jordyn is a people person. She enjoys the company of others and seems to get along with everyone she comes in contact with," LCBDD Employment Support Specialist Jaclyn Alexander wrote in a letter of recommendation for Jordyn.
"(She) is working on increasing her independence in all areas of her life, including making plans for herself and arranging her own transportation and letting her parents know her plans. It is very important to Jordyn to do things with her peers," Jaclyn wrote.
Jordyn has been supported by the Licking County Board of Developmental Disabilities since she was diagnosed with Down syndrome at birth. When she turned 14, her service coordinator Lea Bonner and Jaclyn began working with their family to figure out her next steps after high school.
Gail said she is thankful to Jaclyn as well as the staff of Opportunities for Ohioans with Disabilities for their help with the application process for the leadership forum.
Jordyn is interested in having a college experience after graduation and the Huberts are hopeful that participating in the Youth Leadership Forum will give her more skills to get closer to that goal.
"Jordyn has told me she wants to be a teacher or possibly a cook," Jaclyn wrote in her recommendation letter. "Assistance from your program with learning about choosing a career would greatly benefit her."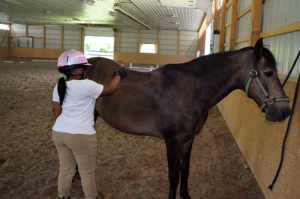 Tara Parsley, Jordyn's physical therapist and assistant field hockey coach at Granville High School, also wrote Jordyn a letter of recommendation, describing her as a positive role model.
"The most important characteristic that I must share with you about Jordyn, is her joy for life!" Tara wrote. "She has a wonderful personality. Jordyn is very caring and loving to those around her. She loves to laugh and make others around her laugh…Her efforts in the school and on the sports field are respected by all of her peers. These efforts combined with her awesome personality would be a great addition to the Youth Leadership Forum."
Hands-on leadership experience
In its 19th year, the Youth Leadership Forum brings high school juniors and seniors from all over the state together for five days of training and camaraderie.
From July 30 to Aug. 3, participants learn about rights, self advocacy, employment and setting goals, said Donna Foster, program administrator.
To get as much hands-on experience as possible, they'll visit the Ohio Statehouse and speak to staff members, participate in voting education with the Ohio Secretary of State's Office — which actually allows them to try out a voting machine — and form small groups to present on topics such as accessible technology or being a part of the IEP process.
Students will also participate in a career event, where they will have the opportunity to talk to people in fields they might be interested in. They will also help with several service projects, collecting children's books and supplies for the organization 4 PAWS for Ability.
One of the most exciting things about the program is the opportunity for the students to form relationships with mentors, Donna said. Almost 90 percent of the staff have disabilities and most of them are alumni of the Youth Leadership Forum.
Participants get the chance to learn from people they can relate to, who have experience working, attending college and navigating the adult world. They can see what is possible after high school, Donna said.
Although they work hard during the day, the students also have fun at in the evenings with movie nights, dances and other activities.
"Most of them leave here realizing there is a community they belong to, they have a place they can go for support," she said.
Although she said she's slightly nervous about attending the forum, Jordyn said she's looking forward to the opportunity to experience something new.
"It will be great for her to be learning some of those skills to help her get a job and be more confident and successful with her endeavors," Gail said.
For more information about the Opportunities for Ohioans with Disabilities Youth Leadership Forum, go to ohioylf.com.
For more about Opportunities for Ohioans with Disabilities, go to ood.ohio.gov.