Reynoldsburg mother works to spread awareness of the importance of early intervention for preemies
Before Jariyah Heriot was born, her doctors tried to prepare her parents for the fact that she would be incredibly small.
Born premature at 29 weeks, Jariyah weighed 1 pound, 13 ounces at birth.
Her parents Jereatha and Maurice Heriot knew she would face significant medical challenges. But immediately after their daughter was born — even as she was being rushed to the neonatal intensive care unit — they could see she was resilient.
"She was fighting from the moment she got out," Jereatha said. "She has a big personality for such a small person."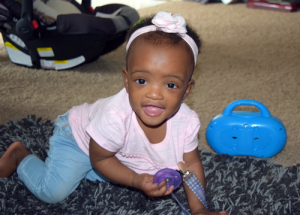 Now 13 months old, Jariyah loves to play with toys and is working on taking steps.
As she watches her daughter meet more milestones, Jereatha is determined to share her story with others, both on a local and national level.
When the Reynoldsburg mom represents the state of Ohio in the 15th annual Miss Plus America Pageant — held in July in Addison, Texas — she  will be promoting Faith of a "Poppy" Seed, a personal initiative she started to help the families of premature babies.
Her goal is to assist families of NICU and former NICU babies through the gifts of donation, education and companionship while raising premature awareness.
Meeting milestones
Jereatha nicknamed her daughter "Poppy" when she learned she was pregnant and Jariyah was then the size of a poppy seed.
Although Jereatha was born six weeks early, she and Maurice weren't expecting any complications. But when she was diagnosed with preeclampsia, Jariyah was born by emergency C-section.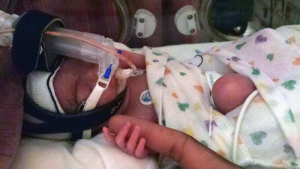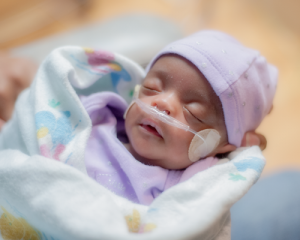 Jariyah was in the NICU at Riverside Methodist Hospital for two and a half months. She was diagnosed with bronchopulmonary dysplasia, a condition affecting her lungs, and retinopathy of prematurity, which affected her eyes.
She remained on oxygen until she was five and a half months old. When she came off, it was clear that she didn't have much interest in playing with toys and wasn't meeting many movement milestones.
Strong believers in early intervention, Jereatha and Maurice began working to get Jariyah some additional support.
When they moved to Licking County, they got connected with the Licking County Board of Developmental Disabilities' Early Intervention program.
The program supports children — ages birth to 3 — with developmental delays or a diagnosis that is likely to result in a developmental delay.
Babies born too early often have a higher risk of developmental delays and are eligible for Early Intervention.
The Heriots began working with Developmental Specialist Colleen Tullis and Service Coordinator Laura Elliott.
Working as a team with Jereatha and Maurice, they created goals for Jariyah based on the things that were important to their family, such as helping her sit up, roll over and crawl.
"It helped her development a great deal," Maurice said. "It made us feel really good when she met a goal and made it to the next one."
'A little faith'
As she watched her daughter grow and reflected on her experiences, Jereatha was filled with pride at her daughter's accomplishments.
"She's little but mighty," she said. "Through all she's been through, she's always got a smile. She wakes up smiling."
But she also kept thinking about all the families she met in the NICU and the unique experience they went through.
"I thought about families who don't have the support that we do, they would feel completely lost," she said. "It's a situation where people on the outside looking in don't understand. They don't know how to help."
She decided to create Faith of a "Poppy Seed", because as they learned in the NICU, "a little faith will get you far," she said.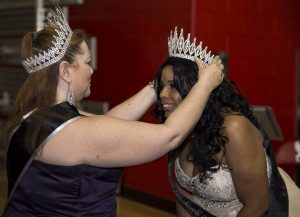 She began collecting clothing, breast feeding supplies, formula and preemie and infant diapers to donate to families. She has spoken to some NICU mothers and hopes to be a mentor to many more.
She has also reached out to the March of Dimes with interest in sharing her story.
When Jereatha was approached about competing in the Ohio Plus America pageant, she knew she had a platform already picked out.
Jereatha had experience with modeling and acting and was thrilled to be crowned Mrs. Buckeye State Plus America 2017.
When she competes at the national level in July, she will share her platform with a greater audience.
"I've been blessed with the opportunity," she said. "I'm very excited."
'A lot of joy'
While a large part of her platform is prevention and awareness, Jereatha said she also wants to emphasize how much of a difference early intervention can make for preemies.
"My mom always said that your parents are your first teachers," she said. "You have to be a teacher for your child, long before they start walking or talking."
Being first-time parents, LCBDD's Early Intervention services were huge, she said.
"They created goals for her to step up to," she said. "Without those goals, I don't think she would be crawling or walking or playing with toys, where she is now."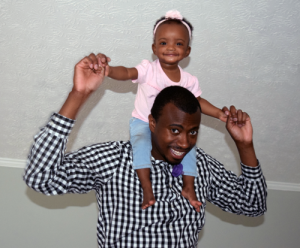 Colleen continues to provide services in their home —based around their natural routines and activities — and is flexible around their work schedules, Jereatha said. She's also been willing to go to Jariyah's daycare. When they have questions, Colleen always gets back to them quickly.
Whenever Jariyah learns something new, everyone celebrates it, Maurice said.
"The little stuff people might take for granted are huge milestones," he said. "You've got to work a little harder, but there is a lot of joy."
For more information about Faith of a "Poppy" Seed or to learn how to make a donation, go to facebook.com/MrsBuckeyeStatePlusAmerica2017.
For more information about how LCBDD supports young children and their families, go to http://lcountydd.org/early-childhood-2/.
Photo credit: The Heriot family