After a successful senior year, Hunter Primmer has plans to pursue a job in broadcasting.
Throughout this school year, the students of Johnstown Monroe High School have gotten used to hearing Hunter Primmer's voice every morning.
Hunter has been designated to deliver the morning announcements at school. Every day he crafts an opening monologue, based on quotes from movies or TV shows, that always ends with a request for students to stand for the Pledge of Allegiance.
"A lot of the students and teachers really like it," said his mother, Joette Greenstein.
Not only does Hunter enjoy doing the announcements, but it's a way for him to work toward his future goals.
He loves doing voice overs and impressions and would one day like to have a career in broadcasting.
"I am an entertainment person," Hunter said.
Now 18, Hunter was diagnosed with autism spectrum disorder when he was 2. He began receiving support from the Licking County Board of Developmental Disabilities, at the E.S. Weiant Center, at a young age.
After attending Flying Colors Public Preschool, Hunter became one of the first students with autism to be mainstreamed in Johnstown Monroe Local Schools. LCBDD provided his family with FSS funds so he could receive additional therapy and help from tutors.
As Hunter began high school, he and his family began meeting with LCBDD Employment Supports Specialist Jaclyn Alexander to identify the best way to prepare for the future.
"We were pretty independent when he was younger, but when he hit high school we needed to make big decisions and Jaclyn has been very helpful," Joette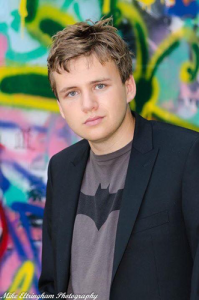 said.
Hunter began participating in the I-TEC program at C-TEC during his junior year. He had the opportunity to have several internship experiences at Golf Works, Licking Memorial Hospital, Gummer Wholesale, Denison and Ohio State University.
Jaclyn also connected him with Opportunities with Ohioans with Disabilities, which helped link him to a summer job at Giant Eagle. That helped him gain the skills he needed to be hired part-time at Kroger in Johnstown as a customer courtesy clerk.
Hunter balances work and school with DJ-ing for the JHS track team and participating in performing arts.
He marched for four years in the drum line of the JHS marching band and was involved with three musicals.
In JHS' most recent production of "Shrek: The Musical" he took on a speaking role, playing the henchman Thelonious.
He's looking forward to prom and graduation and what's coming next. In the fall, he'll start the TOPS program at Ohio State University.
TOPS is a program of OSU's Nisonger Center that gives young adults with developmental disabilities the opportunity to experience college classes and gain independent living skills.
After two years in the program, Hunter is hoping to be able to earn a one-year certificate in broadcasting.
LCBDD Service Coordinator Jessica Steil has helped Hunter secure a SELF Waiver, which will be used to fund educational opportunities.
Hunter is already working on a video portfolio and plans on taking voice lessons over the summer.
Ultimately, he'd like to use his vocal skills to record commercials, work for a TV or radio station or provide the voices for animated characters.
He's already used his skills to assist LCBDD, appearing in a commercial in 2015.
Photos courtesy of Mike Eltringham Photography.