Chris Newman has volunteered more than 600 hours at Angels Persist Thrift Store in Johnstown.
Chris Newman loves a challenge and enjoys helping people.
So when he began volunteering at Angels Persist Thrift Store in Johnstown last summer, he set a goal that he would try to donate 500 hours of time to the organization.
Several weeks ago, he called his service coordinator Dora Young-Ford with big news. Not only had he met his goal, he had surpassed it —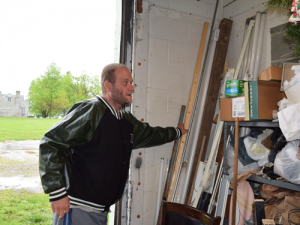 volunteering more than 600 hours.
Now the Johnstown resident wants to double that, volunteering for 1,200 hours.
"It's helped me with communication," Chris said. "It's made me more responsible and independent."
Shortly after he began receiving support from the Licking County Board of Developmental Disabilities, Chris, 36, told Dora he wanted the opportunity to gain social and employment skills.
He had experienced struggles in his life and knew what it was like to be in need. So when he learned about Angels Persist's mission, he thought it would be a good fit.
"I wanted to do something with my life and help other people," he said.
Eileen Baesmann, of Johnstown, started the thrift store in 2014 with her husband Terry. Their goal was to give back to the community.
After its monthly bills are paid, Angels Persist donates the remainder of its proceeds. Over the years, they've supported scholarships for local teens, books for the Croton Library, the American Legion and numerous other organizations.
They also help families in need with medical expenses, utility bills and emergency food.
In 2016, they donated more than $59,000 to local causes. The store also donates household items to families in crisis who are trying to get back on their feet.
"Your community is what you make it," Eileen said. "If you want to inspire and empower people, you need to be part of the process."
When Chris first asked to volunteer at the store, he was very shy and nervous about taking initiative.
But in the last ten months, he's made phenomenal strides, Eileen said.
Now Chris helps stage the store, prices items, runs the cash register and helps customers. He's able to move large items in and out of the store and is always willing to help where he's needed, she said.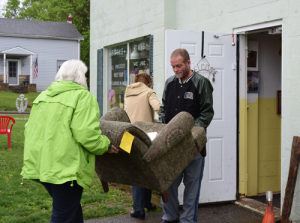 "We are so lucky to have Chris with us," she said. "And not just for the physical help he gives us. Sometimes a friendly word is all our customers need and he's really developed the ability to do that."
Chris said his goal is to use the skills he's learned at Angels Persist to get a job in Johnstown. But he's planning to keep volunteering at the store.
"I've made a lot of friends here," he said.
Eileen said she's very proud of Chris and is looking forward to seeing him continue to grow.
"We are very fortunate to have him," she said. "He's quite an asset. He's another angel."