Partnering with Columbus State and LCBDD, PALS is helping students pursue higher education.
Shawna Winterbotham had a difficult time in high school and assumed college wasn't for her.
She got a job doing administrative work for several years. But as she got older, she realized that she wanted more.
When she heard that PALS Chrysalis Health in Heath was starting a college program for the adults it supports, she jumped at the opportunity.
Two years later, Shawna is taking online classes through Columbus State Community College with the goal of earning a two-year degree in child development and working at a daycare.
"It's opened my eyes to a whole new world," she said. "When I first started, I didn't know what I was getting into, or if I could make it because of my learning disability, but Aaron (from PALS) has been there every step of the way."
PALS has been offering assistance with college courses at its Licking County location since 2013, said Aaron Bracone, chief executive officer.
The Licking County Board of Developmental Disabilities recently gave the agency a $21,200 Community Engagement grant to strengthen the program. The funding will be used to purchase laptop computers and create a guidance counselor position who will support participants as they prepare for college, register for classes and complete coursework.
"We try to catch anything that would set someone up for failure," Aaron said. "We try to catch that and support them."
When PALS first started in Gahanna in 2012, and in Heath a year later, Aaron could see that many of the people they were supporting had a drive to pursue education.
PALS began teaching classes in basic skills and eventually moved on to GED classes. But Aaron wanted to make sure there was also an opportunity to get the college experience.
He began collaborating with Dr. Tom Habegger, dean of Columbus State's Health and Human Services division and Tiffany McClain, Columbus State's director of disability services, to start a program for PALS participants.
Over the last few years, they've established a very supportive framework, Aaron said.
"Our ultimate goal is for them to use PALS as a stepping stone to go on and finish their education," he said.
When a person expresses interest in college, the first step is getting them registered at Columbus State.
Aaron helps get them enrolled at the college, apply for financial aid and sign up for classes and provides support as they meet with the Disability Services Department to determine what accommodation that student needs. They figure out how to access their student email and go to the book store.
"Getting their student IDs is a big moment for a lot of them," Aaron said. "It's a very proud moment."
Most students start off with a introductory course to Columbus State, where they learn how to study and how to deal with stress and time management.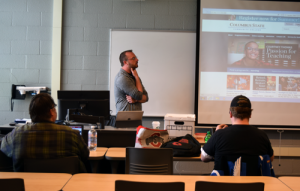 "We want them to become advocates for themselves right at the beginning," Aaron said. "We want them to learn what they should have support with, and what responsibilities are on them."
That class is typically followed by a sports and exercise studies class, then an adaptive physical education class. That course is very popular because it covers the Americans with Disabilities Act and the history of disability advocacy.
After that, many students have the motivation and information they need to begin working toward a major, taking many of their classes online. A space is set aside at PALS for students to study and complete assignments.
The students' interests range from veterinary technology, paralegal studies, graphic design and nutrition and dietetics.
"A lot of students get a self confidence boost. To be able to say, 'I am a college student,' it motivates them," Aaron said.
Eric Berger and Natasha Grether, both of Newark, recently finished their first class at Columbus State — bowling. Eric is interested in studying digital art and graphic design. Natasha would like to study social work with the goal of being a rehabilitation counselor for children.
Eric said he's tried college classes in the past but never had the support that the PALS program provides.
Natasha said she's appreciated the positive attitudes of everyone involved.
"They are very patient and kind," she said.
After several semesters, Shawna is finishing up a fitness management class and is planning to take another class during the fall semester.
One of her professors recommended she volunteer in an after-school program to get more experience working in a childcare setting.
Shawna said she's motivated by the desire to make something of herself and prove the people who doubted her wrong.
Having support from her friends, family and PALS has helped her be successful.
"I think college has helped me mature a bit more," she said. "Now I push myself and I'm more confident."
For more information about this program, contact PALS at 614-532-6420.