Clay Lanning enjoys being a part of the Donatos team in Heath.
Clay Lanning loves pizza — especially when its topped with bacon.
It's one reason why he wanted to work at Donatos in Heath, but that's not the only benefit.
The Newark resident enjoys working with the other associates at the restaurant and collecting a check on payday.
On March 28, he'll celebrate his one year anniversary at the store.
"From the time he walks in the door, until the time he leaves, he is my hardest worker," said Laura Edwards, general manager. "He never stops, he never quits."
Clay, 24, was supported by LICCO Inc. and spent some time working at THK Manufacturing in a sheltered environment.
But he knew he wanted a different kind of job, where he could earn an hourly wage.
With support from the Licking County Board of Disabilities, he decided to participate in the Employment First program.
Established in Licking County in 2013, Employment First is a statewide program dedicated to helping people with disabilities who have been in segregated work environments transition into competitive jobs in their communities.
Locally, the program has had 49 participants through a partnership with the Licking County Board of Developmental Disabilities (LCBDD), Opportunities for Ohioans with Disabilities (OOD) and local service providers.
With support from LCBDD and LICCO, Clay went through the application process at Donatos.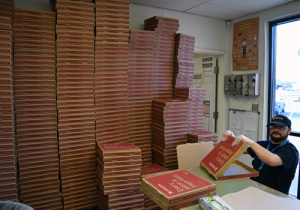 Laura said she was impressed by his enthusiasm and his desire to work.
At Donatos, Clay's biggest responsibility is assembling pizza boxes.
At a store that sells 1,200 pizzas a week, that's a huge part of the restaurant's operation, Laura said.
"All those boxes get folded by hand," she said. "And that's a lot of boxes."
When he first started working at Donatos, Clay was nervous about talking to his coworkers.
"At first I didn't talk to people," he said. "But after a while it became a routine and I felt comfortable."
Now he enjoys chatting with them and joking while he works.
"He started to open up," Edwards said. "Now he's just another member of our team. He brightens my day, every day, I look forward to the days he's here."
For more information about Employment First, go to ohioemploymentfirst.org.