The second internship rotation is going strong at LMH and Project SEARCH interns are gaining new skills.
As they completed their first internship rotations in mid-November, the interns participating in Project SEARCH consistently amazed the staff at Licking Memorial Hospital with their hard work and enthusiasm.
When it came time to start their second internship rotation after Thanksgiving, that meant changing departments and learning new responsibilities. But the group hasn't missed a beat.
Project SEARCH is more then halfway through its first year and organizers are feeling confident that the new project is successfully helping students gain job skills through real-world experiences at the hospital.
Students will transition into a final internship rotation in late February before they graduate from Project SEARCH at the end of the school year. Over the last few weeks, they've spent more time discussing their future professional goals and preparing to apply for jobs.
Each student's ultimate goal is to find full time employment after completing the program.
Meet two students who are not only loving their second internships, but using them to gain the skills they need to pursue their dream jobs.
Catherine Dunkin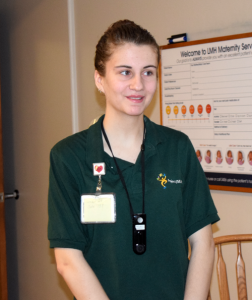 Catherine already knew she wanted a career working with children before she started interning at LMH.
The Granville High School student babysits for her nieces and nephews, worked as a bounce house attendant at Lynd Fruit Farm and has helped out in both elementary school and preschool classrooms.
But Project SEARCH has exposed her to other career opportunities.
For her second internship rotation, she was placed in Labor and Delivery.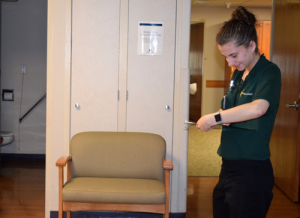 One of her favorite responsibilities is helping new moms and their babies get ready to go home from the hospital. But she also helps change beds and prepare rooms for new patients.
She makes sure that all the new moms have water, snacks and a newspaper to read — if they would like one.
Catherine, 19, likes to stay busy and is always looking for ways to help out.
"I like transporting the patients and helping them," she said. "I like all the people here, they are very nice."
Max McDaid
M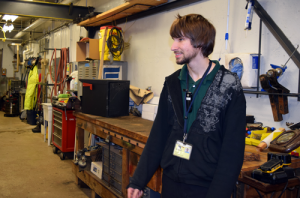 ax and his father love working on cars and doing other mechanical projects at their home in Pataskala.
So an internship in LMH's engineering department was a great fit for him.
Over the last few weeks, Max, 20, has helped clean and maintain the hospital's vehicles by checking the tire pressure and changing the oil. He's enjoyed building and painting furniture in the hospital's wood shop.
Staff members have been amazed at his knowledge of tools and his initiative to get things done.
Ultimately Max said his goal is to get a job where he can work on cars and trucks.
Learn more
Students from Heath, Granville, Licking Heights, Newark and Watkins Memorial high schools are participating in this year's Project SEARCH program.
Project SEARCH is hosted by Licking Memorial Health Systems, which has partnered with the Licking County Educational Service Center, Opportunities for Ohioans with Disabilities, Greenleaf Job Training Services, the Licking County Board of Developmental Disabilities and area school districts to bring the program to Licking County.
Applications are now being accepted for next year's Project SEARCH.  All participants must be at least 18 years old, be in their final year of high school in Licking County and have an Individualized Education Plan and a disability that is seen as a barrier to employment.
Each intern will complete three internship rotations before the end of the school year to learn different skill sets with the goal of gaining competitive employment at the end of the program.
For more information, contact Holly Shellogg, director of employment supports, at the Licking County Board of Developmental Disabilities at 740-322-6928 or holly.shellogg@lcountydd.org.