David Grover is laying the groundwork for a career in the culinary arts.
David Grover didn't used to be a morning person — until he started the Project SEARCH internship program at Licking Memorial Hospital.
"This is the first time I've seen him this excited," said his mother, Brenda Lavender. "All I have to do is call him once, and he's up."
Since the beginning of the school year, David has been one of 10 interns in the new program gaining new skills in different parts of the hospital.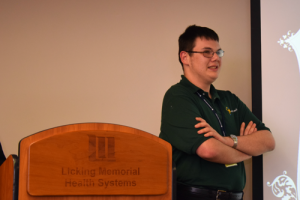 After completing a successful internship on the hospital's fifth floor, David just started interning as a prep cook assistant in the LMH cafeteria.
"I serve customers dessert," he said. "I've been prepping and stocking the salad bar.  (Last week) I cut up a lot of strawberries."
David, 20, has loved to cook as long as he can remember and wants to be a chef like Food Network star Bobby Flay.
His parents, Brenda and Dennis Lavender, are thankful for the many opportunities the Licking County Board of Developmental Disabilities has connected David with to help him toward that goal.
The Lavenders, of Newark, have multiple family members with disabilities who have been supported by LCBDD since childhood.
David received Early Childhood services and his family used Family Support Service Funds to help him attend Camp Nuhop in Ashland.
A student at the Virtual Community School of Ohio, David began working with LCBDD Employment Specialist Denise Rose when he turned 14 to prepare for the future.
One of his biggest hurdles was intense social anxiety, which made it difficult to be around large crowds.
As he worked to overcome that challenge, he participated in a variety of employment programs to gain work experience, including the College ASPIRE program at Central Ohio Technical College.
He's also spent time working at the Grove by the River and Heath Nursing Care Center.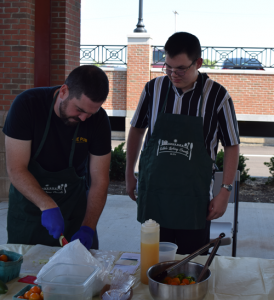 Over the summer he participated in Edible Licking County, a program at the Canal Market District with Andrew Spurlock, kitchen manager of The Pub on Broadway.
During the programs, David helped Spurlock demonstrate how to prepare food with ingredients purchased from the market.
Since he started Project SEARCH at LMH, David has learned how to coordinate transportation so he can get to work on time. He's very proud of his uniform, his ID badge and the fact that he recently received his CPR certification.
He's been enjoying getting to know his coworkers and was thrilled when they invited him to their holiday staff potluck.
"(Project SEARCH) is teaching him have pride in himself, it's made him have dreams," Brenda said.
David is quick to point out that Food Network star Guy Fieri got his start washing dishes and is now a successful chef and restaurateur. He's hoping to increase his skills and work his way into the culinary field.
He's been working on cooking more dishes at home, including shepherd's pie and breakfast bars. During his winter break, he plans to help out his family with their holiday cooking and practice his knife skills.
One of his goal is to donate some of his desserts and culinary creations to local homeless shelters.
"Those people probably don't get the chance to have snacks a lot," he said.
David is also thinking about entering a dish in the Hartford Independent Fair this summer.
Brenda said her entire family is thrilled to see David so excited and inspired. Her dream is to see him working and living in an apartment with minimal supports.
"He's learning the skills he needs to live on his own," she said. "Now he believes he can do it."