The Next Chapter Book Club has been going strong at the library for almost three years.
Graphic Novels aren't always easy to read in a large group.
But the members of the Next Chapter Book Club at the downtown branch of the Licking County Library  recently decided they were up for the challenge.
At their bi-monthly meetings, members of the club are working on reading the graphic novel, "Batman Vol. 1: The Court of Owls."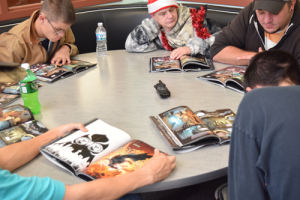 For the last two and a half years, the Licking County Library has hosted Next Chapter Book Clubs for adults and teens.
"I've really enjoyed my time with the clubs," said Amy Gantt, Head of Teen Services for the Licking County Library. "I have a really good time with them."
The first Next Chapter Book Club was started in 2002 at the Ohio State University Nisonger Center on Disabilities, with the goal of giving people with disabilities the opportunity to participate in a community book club.
Since then, the program has spread around the country.
Amy got connected with the program after the provider agency PALS reached out to her about starting a book club at the library.
Since then, they've read a variety of books, including "The Swiss Family Robinson," "The Strange Case of Dr Jekyll and Mr Hyde" and "A Christmas Carol." Mystery, horror and adventure have been popular genres with the group so far.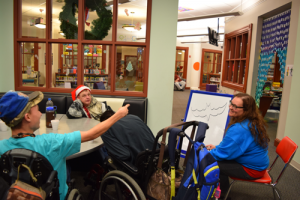 Sometimes, they take time to watch movie versions of the books or play games, Amy said.
Although many of the participants of the club come from PALS in Heath, the group is open to anyone in the community who wants to participate.
Upcoming adult meetings will be held at 1 p.m. on Dec. 20, Jan. 3, Jan.17, Feb. 7 and Feb. 21 in the Teen Zone at the library, 101 W. Main St., Newark.
Teen Next Chapter meetings will be held at 4 p.m. on Dec. 27, Jan. 31 and Feb. 28 in the Teen Zone.
For more information, go to nextchapterbookclub.org.