Hottinger and Ryan named Legislators of the Year by OACB
Two local legislators were honored this week for their efforts to update legislation that will allow county boards of developmental disabilities throughout the state to communicate more clearly with voters and focus on devoting more time and resources to supporting people with disabilities.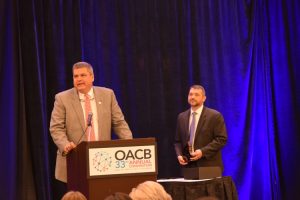 Senator Jay Hottinger, (R-Newark) and State Rep. Scott Ryan (R-Granville Twp.) were each honored as Legislators of the Year by the Ohio Association of County Boards of DD, a statewide trade group, at its annual convention in Columbus.
The award is presented every year to lawmakers who advocate for people with developmental disabilities and the county boards that support them.
Hottinger and Ryan — who both call Licking County home — were instrumental in introducing bill provisions updating state rules related to county board levy language. Both lawmakers proposed bill changes in the Ohio House and Senate related to DD levies, and the changes passed as part of this year's Ohio state budget review bill.
County boards of DD across Ohio, including the Licking County Board of Developmental Disabilities (LCBDD) rely on local taxpayer support, through levies, to help residents with developmental disabilities.
Many of these levies were originally created under rules limiting their length to five years, meaning boards have had to routinely ask voters to approve additional funding. The changes made possible by Hottinger and Ryan's support give boards more ways to update existing levies.
"Our taxpayers, while always supportive, didn't understand why they saw us on the ballot so frequently," LCBDD Superintendent Jason Umstot said.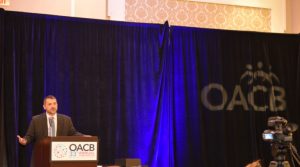 "Now county boards can run fewer levy campaigns over longer periods of time and commit more resources to providing quality services and supports to people with developmental disabilities."
County boards now have the opportunity to better explain their service offerings to voters and more clearly communicate how tax dollars will be spent. Boards will also be able to ask voters to change how long tax levies can run.
Umstot and Gary Smith, LCBDD director of finance and business operations, spoke to Hottinger and Ryan about the opportunities a language change would provide county boards. Both legislators helped without hesitation and reached out to other lawmakers in the process, Umstot said.
The change allowed LCBDD to give voters the opportunity to change the length of its recent levy, which was approved by voters on Nov. 8.
Hottinger and Ryan's efforts will give county boards the flexibility to make choices that will support their long-term growth, Umstot said.
"Having legislators who take the time to understand our issues and help drive needed change is vitally important," he said. "I am certain that without their help, we would have faced a huge challenge gaining the support needed to ensure these changes, which ultimately affect our entire state."
Hottinger said he was honored to receive the award.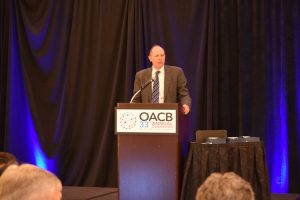 "The true champions though are the brave men, women and children who do not let a disability be disabling and the families who support them," he said. "Further, the strength and courage those individuals show every day is why I stand with them and support initiatives that help them succeed."
Hottinger received his award Wednesday and Ryan was recognized today (Dec.2).
"I feel like the people giving the award are the ones who are award worthy," Ryan said. "All the great work they do is a huge asset to our state. Because of who it comes from, it's extremely meaningful and appreciated."
State Rep. Jonathan Dever, (R-Madeira), was also honored as a Legislator of the Year.
Save
Save
Save
Save
Save
Save