LCBDD has helped Avery Morgan learn to play and communicate with her family.
Avery Morgan is happy to greet new people who arrive at her Heath home.
But that wasn't the case a year and a half ago,
When she was first diagnosed with autism spectrum disorder, Avery could only say about 10 words.  She wasn't very interested in toys and had a hard time connecting with people.
"She's come so far," said her mother Stephanie Morgan. "Just seeing her say, 'Hi' to people is a huge deal."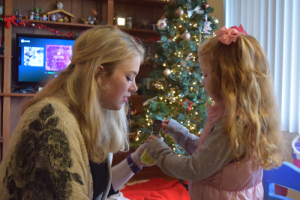 After her first birthday, Avery wasn't hitting a lot of the typical milestones. Stephanie and her husband Jeremy noticed she was showing signs of being on the autism spectrum.
She would walk on her tip-toes and wasn't making eye contact.
After Avery's 2-year-old check up, her pediatrician referred her to Children's Hospital, which connected the Morgan family to the Licking County Board of Developmental Disabilities (LCBDD).
Avery was able to participate in the Autism Diagnosis Education Project, a statewide program focused on evaluating and diagnosing young children who are suspected of being on the autism spectrum.
Developmental Specialist Susan Kennedy and local pediatrician, Dr. William Knobeloch worked together to assess Avery at the E. S. Weiant Center in Newark.
Receiving a diagnosis before her third birthday gave Avery the opportunity to receive early intervention from LCBDD's Early Childhood team.
"It's really important that they get started early, as early as you can." Stephanie said.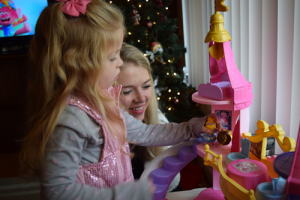 Susan helped the Morgans set goals for Avery, to help her communicate, learn new words, focus and improve her motor skills.
One of the biggest rewards for the Morgans has been that they can read Avery a story, build with blocks or have a tea party.
"Susan really taught us how to play with her," Stephanie said. "That's been one of the biggest things."
Avery attends Flying Colors Public Preschool and is having a great time as she continues to learn new things and work on goals.
Her family is grateful to LCBDD for providing them with the information they needed to help her connect with the world, Stephanie said.
"(LCBDD) is just a great resource," she said.
For more information about the Autism Diagnosis Education Project in Licking County, call  740-349-6588 or go to http://lcountydd.org/early-childhood-2/.