Brandon Freels, of Pataskala, has found a job he loves at Kroger.
When Brandon Freels completed his job interview at Kroger in Pataskala, he had a good feeling about the opportunity.
It's been two and a half years since then and Brandon is still working at the grocery store.  Since he started, his schedule has increased from eight to more than 24 hours every week.
"I really enjoy being friendly and helping the customers," Brandon said.
As a courtesy clerk, Brandon, 24, has a variety of responsibilities, including bagging groceries, organizing carts and helping customers.
Recently, associates at the store dressed up for Halloween and Brandon participated, painting his face like the wrestler, Sting.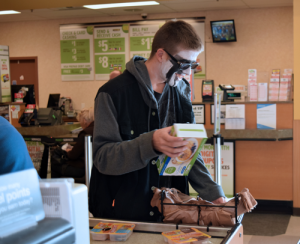 Brandon is always doing everything he can to make sure the store has a high friendliness score. He's done his best to get to know his coworkers and likes to chat with the customers about how their day is going.
"He's always got a positive attitude," said Carissa Hamilton, the store's customer service coordinator. "He comes in with a smile every day. He's always smiling, He always does what he's asked."
One of Brandon's proudest accomplishments was receiving a certificate of appreciation from Kroger for his courtesy and professionalism during his first year on the job.
He was recently asked to share his experiences in an employment panel at the annual Transition Resources Fair at Heath High School, which works to connect young people with resources to find a job after high school.
Brandon, who lived in Lima and Canton before moving to Licking County, has been supported by the Licking County Board of Developmental Disabilities for about three years.
The board's service coordinators and employment specialists worked closely with Brandon and his father, Marc Freels, connecting them with resources so Brandon could find the right job.
"When we got to Licking County, all these opportunities opened up, the people were amazing," Marc said. "The process took some time, but once we got it moving, it was great."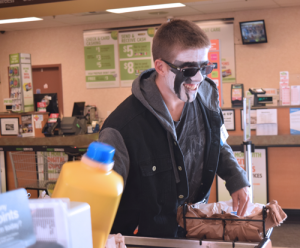 Since he started working at Kroger, Brandon believes he's become more responsible and learned how to deliver good customer service.
He's also thankful for the opportunity to earn and save money, which he can use to pursue his interests — attending college football games and buying computer games.
Brandon said his current goal is continue his career with Kroger.
Marc said he's thrilled that Brandon is working for a company that has room for advancement.
But the biggest reward so far has been seeing Brandon doing a job he loves.
"I'm always telling him, it's important to enjoy what you do," Marc said.