A strong support network of family and friends has helped Mary Grove pursue her passion for Elvis memorabilia.
Mary Grove has always had a "Burning Love" for Elvis Presley — and she's got an extensive collection to prove it.
The 79-year-old, from Newark,  has Elvis items for almost every occasion, including bathrobes, pajamas, posters, hats, towels, clocks and purses.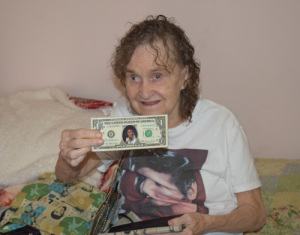 Thanks to gifts from family and friends, she has an Elvis bowling ball, countless records and CDs, an Elvis umbrella, an Elvis checkbook, Elvis mints and lots of magazines and books devoted to "The King of Rock and Roll."
Her niece, Sherry Peck, said her aunt has loved Elvis as long as she can remember.
She enjoys dancing to his music and watching marathons of his films. One year for her birthday, her family booked an Elvis impersonator, who Mary really enjoyed.
One of the oldest ladies supported by the Licking County Board of Developmental Disabilities (LCBDD), Mary grew up in Alexandria.
She worked at LICCO Inc. for many years, but retired so she could help take care of Sherry's grandchildren.
As a great-great aunt, she loves playing with her great-great nieces and nephews, coloring with them and helping them with school work. She also enjoys going to the store on the weekends to add to her extensive magazine collection.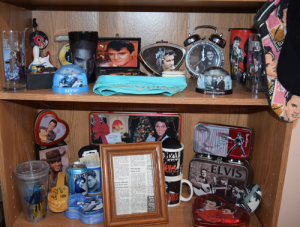 Sherry, who has been close to her aunt her entire life, said she loves having Mary in her home. They enjoy spending time with their extended family, having birthday parties and going to cook outs.
Although she recently broke her hip, Mary is healing and has maintained her positive attitude. She still loves to proudly show off her collection to anyone who comes by.
Although it's harder for her to get around, her strong support system of family and friends has helped her continue to grow her collection.
"People give her Elvis stuff… people search and search," Sherry said. "There probably isn't much out there that she doesn't have."