Project SEARCH interns are working hard at LMHS.
It's been a few months since Licking County's first ever Project SEARCH High School Transition Program kicked off at Licking Memorial Health Systems and the 10 interns are keeping busy.
Students from Heath, Granville, Licking Heights, Newark and Watkins Memorial high schools are participating in this year's program. All participants must be at least 18 years old, be in their final year of high school in Licking County and have an Individualized Education Plan and a disability that is seen as a barrier to employment.
Each intern will complete three internship rotations before the end of the school year to learn different skill sets. Their ultimate goal is to find full time employment after completing the program.
Project SEARCH is hosted by Licking Memorial Health Systems, which has partnered with the Licking County Educational Service Center, Opportunities for Ohioans with Disabilities, Greenleaf Job Training Services, the Licking County Board of Developmental Disabilities and area school districts to bring the program to Licking County.
Meet three of the program's participants, who are enjoying their first internship rotation:
Brittany Shepherd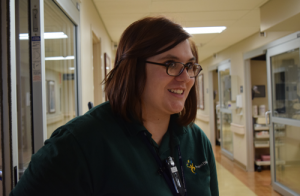 The emergency department at any hospital is a busy place, but Brittany, of Pataskala, said she's enjoying her internship there.
So far she's learned to clean and stock rooms, both important jobs to keep things running smoothly.
She's received compliments for her ability to take on new challenges in a fast paced environment.
Bryce Carmer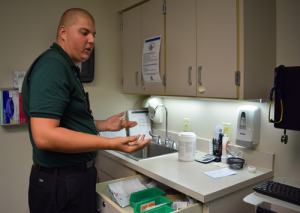 Bryce, of Newark,  has spent the last few weeks interning in the Hospital's Cardiology Department, where he's helped clean and stock rooms and transport patients.
One of his favorite responsibilities has been getting to know the patients and making them smile as he transports them to their appointments.
Project SEARCH has helped him understand the importance of finding a job he enjoys and the skills he will need to keep it.
Cheyenna Hansen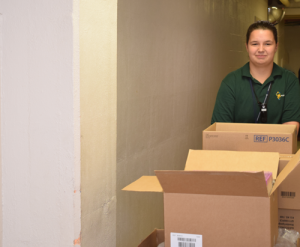 Cheyenna, of Granville, wasn't sure what to think when she found ouhet r first internship would be in LMH's Purchasing Department.
But after a few weeks, she said she's really enjoying the experience.
She's been keeping busy, organizing and transporting supplies all over the Hospital.
After Project SEARCH, her current goal is to start college and pursue a career in athletic training.
For more about Project SEARCH, go to projectsearch.us.<http://www.projectsearch.us/>
Save
Save
Save
Save
Save