Robert George, of Newark, is a valued team member at Ross' Granville Market.
Over the past 10 months, Robert George has become a familiar face at Ross' Granville Market.
The Newark man is there on Mondays, Fridays and Saturdays, bagging groceries, carrying items out to cars and corralling shopping carts.
"I like the customers, I like the clerks there. I like the people and they like me," Robert said. "I also like getting a paycheck too."
Currently supported by the Licking County Board of Developmental Disabilities, (LCBDD) Robert moved to Ohio from Pennsylvania where he had a variety of professional experiences, including working in a grocery store, gardening and growing plants in a greenhouse and park maintenance.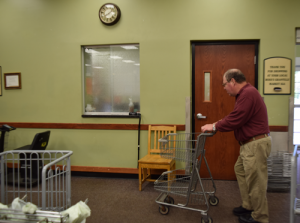 He attends SPARK in Granville and was doing janitorial work there. But he decided he liked working in a grocery store so much, he wanted to give it another try.
Ross' Granville Market has been happy to have him, said Manager Shanda VanSickle.
"Everyone here loves him and enjoys working with him. We are excited that he's here," she said. "He puts everyone in a better mood."
One of Robert's best qualities is his customer service skills, Shanda said.
"Everyone should watch him interact with customers because he does it so well," she said.
He's also a dedicated employee who is always willing to go above and beyond to help out, she said.
"He's always asking, 'What else can I do?'" Shanda said.