LCBDD has been able to help Carter Morrison's family navigate a rare diagnosis.
When Cara Morrison gave birth to her second son, Carter, she and her husband knew that something was different about their new baby.
But when their pediatrician called with the results of an ultrasound on Carter's brain, they were stunned.
"(The doctor) said, 'His brain structure is normal, but he doesn't have a corpus callosum,'" Cara said.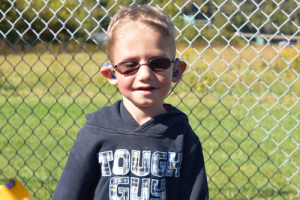 As they started trying to wrap their minds around the fact that Carter had complete agenesis of the corpus callosum — the absence of the nerve fibers that connect the right and left sides of the brain — their pediatrician referred the Utica couple to the Licking County Board of Developmental Disabilities (LCBDD) Early Intervention program.
Almost immediately, staff members helped connect them with resources and reputable information, so they could better understand Carter's new diagnosis.
"I just can't say enough about how much they helped us," Cara said. "They reassured us that everything was going to be okay…That he would do things in his own time, on his own path."
Now 3, Carter is walking more and more and enjoys going to preschool at Flying Colors Public Preschool in Newark.
"He amazes us every day with what he's learned how to do," Cara said. "He's really defined expectations."
Cara and Christopher first learned about the Early Intervention program when their oldest son, Colin received support to catch up on some physical milestones, such as crawling and walking.
So they knew that staff members could help Carter develop and learn how to move his body differently.
Research suggests that as many as 1 in 3,000 people are affected by some disorder of the corpus callosum. Many children with the diagnosis have developmental delays related to walking and talking and have difficulty with complex activities, such as riding a bike or driving, according to the National Organization for Disorders of the Corpus Callosum (NODCC).
Seeing Carter learn to clap his hands — which involves using the right and left sides of the brain at the same time — was very exciting, Cara said.
He's still working on his balance and has some challenges related to feeding. He also has some medical needs.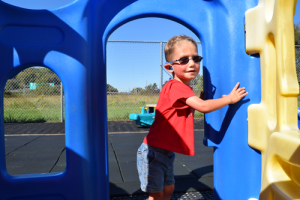 "We just take it day by day," Cara said. "He is a wonderful, happy little boy. He's the light of our lives. He is always happy, he is always smiling."
Their family has found support through LCBDD, a large group of doctors and dedicated therapists and NODCC.
"Through this journey, we've come in contact with the people who are supposed to be in his life," Cara said. "We've been really blessed."
For more information about agenesis of the corpus callosum, go to nodcc.org.