Rebecca Doeringer, of Croton, is living her dream of helping children and working with horses, with support from LCBDD.
When Rebecca Doeringer  was little, she wrote one of her dreams down in her diary.
"I wanted to help kids who had (challenges), like me," she said. "I wanted to help kids through horses. I wrote that in my diary and it all came true."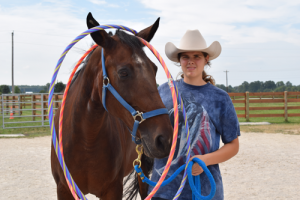 Now 24, Rebecca, of Croton, works side by side with her mother Vicki Doeringer, running a mission that gives children with disabilities the chance to ride horses.
"Horses helped our daughter so much and we knew we needed to do this," Vicki said. "We wanted to help families so their children can do all the things they were created to do."
When Rebecca was in elementary school, she was diagnosed with a developmental disability. Her family later found out she had Asperger syndrome.
She struggled to communicate — until she began therapeutic riding sessions with a horse named Mozart.
"He helped me to talk and to communicate," she said. " Horses don't judge people. It's hard when the world looks at you and labels you, but horses don't. They just see you as another person."
As she got older, she worked with her parents as they created their own riding program, supporting children from all over central Ohio.
When they moved to their farm in Croton, Rebecca began receiving support from the Licking County Board of Developmental Disabilities (LCBDD).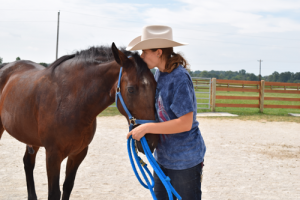 Her family worked closely with service coordinator Cheree Nelson during her school years and after her transition, she is now working with Dora Young-Ford.
Since then, she's gotten her drivers license and is training for dressage competitions.
Dressage is an incredibly complex equestrian sport, but Rebecca is determined to master it. Her goal is to be able to compete in the sport, donating any winnings she receives back to the mission.
Vicki said she has no doubts her daughter will continue to follow her dreams — just like she did when she was little —  and make even more of them come true.
"Watching her do this, we are so proud of her," she said.
For more information about the Doeringers' mission — In His Image New Life Christian Stables —  go to newlifechristianstables.com.