As Raishaun Banks transitioned into adulthood, LCBDD has been there for his family.
Raishaun Banks loves to greet people with a grin and a high-five.
His energy and enthusiasm are often contagious, bringing smiles to his family and friends.
Raishaun, 23, lives with his mother and brother in Reynoldsburg and attends SPARK Pataskala.
"He is such a joy," his mother Valerie Banks said. "Having him here is priceless."
Valerie is a single mother with a successful career who knew she needed support caring for her son when he reached adulthood. The Licking County Board of Developmental Disabilities was there for her, connecting her with the resources she needed.
"If it were not for the board, I'm not sure he'd be residing in our house. If I didn't have support, I wouldn't be able to take care of him," she said. "We are able to be a family because of (LCBDD)."
Valerie first reached out to LCBDD about nine years ago, when she moved to Licking County.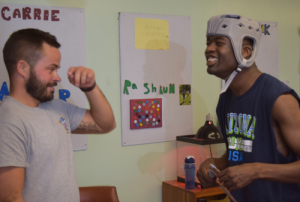 Raishaun's service coordinators were always willing to attend school meetings and helped Valerie organize respite care during the summers.
As Raishaun prepared to leave high school in 2015, service coordinator Cheree Nelson provided guidance for Valerie, helping her obtain guardianship, secure funding for respite care and choose providers.
"Everyone in the organization has been willing to go the extra mile to get whatever it is that he needs done," she said. "We've really been fortunate they are willing to go above and beyond the call of duty."
Raishaun loves going to SPARK Pataskala and Valerie is grateful that she can continue to work, knowing her son has the support he needs.
"Whatever I needed, the board has always been right there," she said.
Save
Save
Save