Sydney Dials, of Pataskala, was supported by the Licking County Board of Developmental Disabilities from age 4 until last spring. Her mother credits LCBDD with completely changing her life for the better
Sydney Dials still has the angel bear Beanie Baby she got when she was born.
She and her mother, Jamie Wilson, keep it to remember how far she's come.
Sydney, 15, was born premature and has struggled with serious health problems from birth. She began receiving services from the Licking County Board of Developmental Disabilities when she was 4.
But last spring, the Pataskala teen reached a big milestone — the removal of her MIC-KEY feeding tube. She was also thrilled to find out she no longer needed services from LCBDD.
She wasn't the only one celebrating.
"We enjoy hearing stories like Sydney's" said Abby Spear, LCBDD's director of service coordination. "It allows us to take time to celebrate the individuals and families we support and what they have accomplished."
'We wouldn't be where we are today'
Sydney arrived eight weeks before her due date, weighing in at just over two pounds at birth.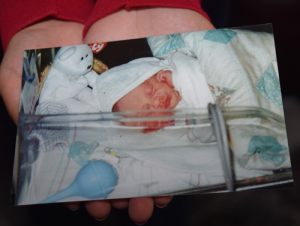 Her mother had been struggling with life threatening complications and had to have an emergency Cesarean section.
For the first few years of her life, Sydney was in and out of the hospital. She had serious digestive issues that affected her growth and development and problems with her lungs. Ultimately doctors put in a feeding tube so she could get the nutrients she needed.
Jamie said she tried to deal with her daughters various medical conditions on her own. But she was exhausted and feeling overwhelmed.
A friend recommended she reach out to LCBDD for support.
"Without (LCBDD) we wouldn't be where we are today," Jamie said. "Her life would be completely different. My life would be completely different."
The agency helped connect Jamie with resources, allowing Sydney to have home-nursing care.
"That kept (Sydney) out of the hospital and she could get care at home. She got a lot healthier," Jamie said.
Jamie was able to use respite care, provided by LCBDD,  so she could get re-energized. LCBDD service coordinators also attended meetings at Sydney's school, helping her family advocate for her needs.
"It was wonderful to have someone to help us work through the system," Jamie said. "If she had a need, I could call our service coordinator and they would help us."
LCBDD staff members worked with Sydney to set goals and come up with a long-term plan, so she could learn to manage her own medical needs and be more independent.
Now she's able to administer her own medications and keep track of her diet and medical records.
For the past year, she's worked with LCBDD employment specialist Teresa Valentino to do job shadowing and talk about employment options.
Although she enjoyed working with LCBDD staff, Sydney said she was excited when she found out she no longer needed services. It was just one more step toward being more independent.
Although some people are supported by LCBDD their entire lives, others, like Sydney, have different goals as they grow, Abby said.
"Families often come to (LCBDD) thinking we will always be part of their lives," she said. "But for some families that's not what they need. Often, they just need assistance connecting to resources in our community. We guide them on their journey and they pave their own way to success."
Jamie said she was thankful that the LCBDD staff provided unconditional support when Sydney needed it, but also gave her space when she didn't.
"They were there when we needed them," she said
Sydney's looking forward to playing her clarinet in the Licking Heights High School marching band and is starting her first year at Bishop Hartley High School, where she hopes to participate in the drama program.
Jamie said she's hopeful that other families will hear Sydney's story and reach out to LCBDD to find out if they qualify for services.
Early intervention is often key, Abby said. Even if a family is not eligible for services, LCBDD can refer them to other community resources, that would be a better fit for their needs.
It's a message Jamie and Syndey are eager to share.
"Don't wait as long as I did," Jamie said. "It's absolutely amazing. It didn't just help Sydney, it helped me."
Save
Save