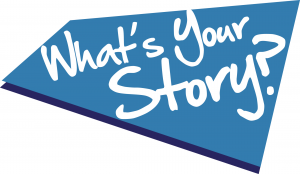 Everyone has a story and they are all worth telling. Ohio Public Images' 2016 awareness theme, "What's Your Story," is designed to capture the dreams, interests, abilities and personalities of people who have developmental disabilities.
In honor of Developmental Disabilities Awareness month, we want to share stories of Licking County citizens with developmental disabilities.  Our first story features Tanner Krupp.
Tanner is a student at Newark High School.  He is very active in this community.  Tanner is part of the Newark High School ROTC Color Guard, the Granville Gals and Pals 4-H club, and is a powerlifter at CrossFit Newark and for the Licking County Special Olympics.  We asked Tanner to tell us about one of his dreams.
Tanner's dream is to own a farm, just like his Grandpa.  Tanner is taking steps towards this dream by working at Hope Farms in Granville each week.  He is on track to make his dream come true, and we know he'll get there someday!
Tanner is pictured with Ben Krooze (WNKO / WHTH Program Director & Morning Show Host), his mother Wanda Krupp, and LCOUNTYDD Employment Specialist Samantha Wolf.