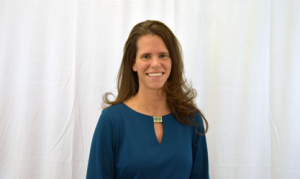 April Dusthimer began her term on the Licking County Board of Developmental Disabilities in January 2018.
A resident of Newark, April has worked at Park National Bank for more than 19 years. She currently serves as vice president of corporate treasury.
She enjoys working with children at Granville Christian Academy, supporting and participating in local 5K races and volunteering at community events in Licking County.
April writes that she would like to see LCBDD continue to be an asset to the Licking County community.
"LCBDD cares about the individuals in our community, regardless of age, with developmental disabilities. These individuals are not just in our community, they are our community. The success of this organization has a direct impact."
April was originally appointed to the Licking County Board of Developmental Disabilities by Licking County Probate Judge Robert Hoover.