Waiting to return to the basketball court, Jett Speelman is helping others as a DSP.
Basketball has been the driving force in Jett Speelman's life for almost as long as he can remember.
A stand out player at Newark Catholic High School and Denison University, he's traveled the world, playing in Iceland, Germany and most recently Luxembourg.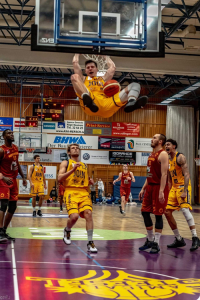 But his sports career came to a screeching halt this spring, when the global COVID-19 pandemic canceled the rest of his season and sent him back home to Newark.
That was a difficult time, Jett said. But looking back on it, it led him to an opportunity he never expected to find — supporting people with disabilities as a direct support professional (DSP).
"I could sit around and have a little pity party but there are a lot more people who have it worse than me," he said. "I'm very blessed."
During a typical year, Jett plays basketball from fall to spring and then spends his summers in Newark, training young basketball players and keeping up his own skills.
But with COVID, the gyms where he typically trains clients were closed and contact sports were discouraged.
So he got on Google to look for a job and found a posting for a job as a substitute DSP at CSS.
"To be honest I knew absolutely nothing (about the job). I knew people had special needs but I didn't think about how those people live," he said.
But after talking with Gina Broceus, Director of HR at CSS, for about 20 minutes, he was confident he would take the job.
"I've always been a giving person who likes doing things for others," he said.
Jett grew up with a childhood friend who was on the autism spectrum and all the kids in their neighborhood played together.
"I've always been able to see past that," he said. "Some people see it as a challenge or feel uncomfortable but it's never really bothered me."
Jett was a volunteer for Big Brothers Big Sisters of Licking and Perry Counties during college and helped volunteer for the West Licking Special Olympics basketball program.
He and a basketball teammate also helped out a similar team while they were playing in Luxembourg.
So he felt like he had the skills, as well as the physical strength, to be a good DSP.
The schedule flexibility was another appealing factor for Jett, who has to commit significant time to working out and practicing.
"Each week is different, but I work the second shift, typically 30-35 hours a week, so I have time for basketball training," he said.
Being a DSP during a pandemic means Jett has to be creative to keep the people he supports engaged and active when they can't do their normal activities.
They've been hanging out, playing basketball and making Dairy Queen runs, he said.
Many of the DSPs in his company are older adults, so it's been fun for some of the young men he supports to spend time with a peer.
"I can still be a friend and a dude (to them,)" Jett said. "It's rewarding when you walk in and people are excited that you are there and give you hugs. It's a great feeling."
Jett's still hoping that he will be able to return to the basketball court soon. But he's definitely interested in continuing to work as a DSP during the summers.
He said he'd definitely recommend the position to others.
"Especially those in high school or going to school online, it's a job with a lot of flexibility and a lot of possibilities to get overtime pay," he said. "As a young person, if you are around people from different backgrounds, with different needs and different paths, it opens up your mind to be a bit more mindful. And if you can make a positive impact in their life, it's mutually beneficial."
For more information about how to become a DSP, go to DSPcareers.com.