The family of Bob and Nick share gratitude for CDS DSPs!
When Bob Raines leaves his home on Velma Avenue, it isn't long before he wants to return.
When he walks through the door, he lets everyone know he's "happy, happy, happy" to be back.
Bob and his roommate, Nick Roberts, love their home, where they've lived since 2013.
One of the main reasons is the team of direct support professionals from the Center for Disability Services — which included Merit, Angie, Cassie, Brandy,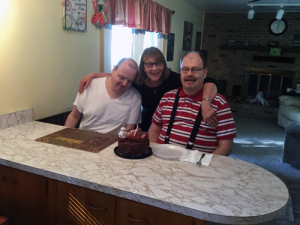 Rebecca, Kelsey and Joe — who are there for them 24/7.
"This family of care givers…they just do whatever the guys need," Bob's sister Carol Gasho wrote recently in an email. "These folks are not only Bob and Nick's family, but they are our family too."
Bob and Nick have lived together for many years in several different housing scenarios but their time with CDS has been the most enjoyable, said Nick's mother Jane Vazquez.
"We are very fortunate," she said. "I never worry when my son is with them."
The two men, affectionately known as "The Kings" because of their high bedroom headboards, are often given the royal treatment. They often enjoy home cooked meals and baked goods. coloring and their favorite shows.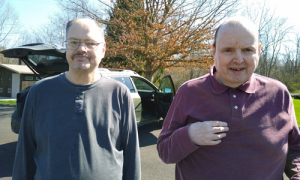 Bob is a huge fan of "The Highwaymen" while Nick, the house negotiator, enjoys reading and planning their menus.
The CDS DSPs have also been there for them during tough times, through sickness and challenges.
"This team would do anything for these guys," Carol said.
Merit Williams, the Velma home manager, has been especially caring, going the extra mile for Bob and Nick, Carol and Jane agreed.
"She is so spot on with the guys, she's just really good in how she communicates with them," Jane said. "I know she's taking care of them."
The Velma team is in contact with Jane and Carol regularly and both women said they feel comfortable reaching out at any time.
Since the coronavirus pandemic began, the team has stepped up with cleaning and sanitizing and have worked to keep the two men comfortable and engaged at home.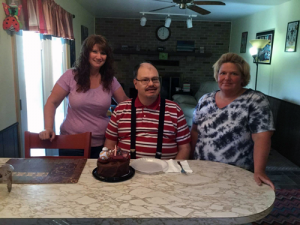 They've also made the difficult but necessary choice to limit the number of additional staff members in the house.
Jane and Carol have kept the house stocked with cleaning supplies, gloves and masks.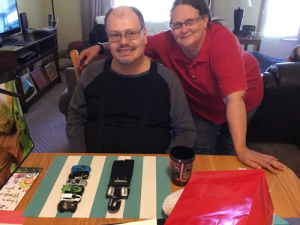 "Our philosophy is if we help them stay safe, we are helping our guys stay safe," she said. "Whatever we can do for that team helps our guys. They are just excellent."
Over the years, Jane and Carol have truly gotten to know each DSP who works with their loved ones.
"It's like a family, they really are," Carol said. "We've gotten to know each other and take an interest in each others' lives. We couldn't do it without them."