Ed is approaching his one year anniversary at the Johnstown Burger King.
Ed Edmister is proud of his hometown and loves being a part of his community.
So working close to home was very important to him.
Ed, of Johnstown is approaching his one year anniversary at Burger King, where he works the morning shift cleaning and greeting customers.
"The managers told me they are glad to have someone like Ed," said Darrin Montgomery, Ed's job coach from LICCO. "He has a good memory so he knows what he needs to do. He had great initiative and always keeps busy."
Before working at Burger King, Ed spent about a year working in an enclave setting at Denison University. He quickly mastered sorting the recyclables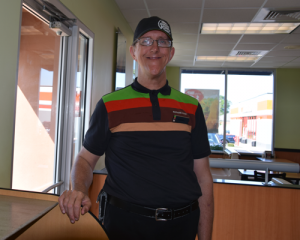 based on their number. But he realized it wasn't exactly what he wanted.
Ed loves to walk in Johnstown and is very active in his church. So being close to those things was important to him. He  decided he wanted to work with people in a resturant setting.
Now he works four days a week at Burger King, stocking ice, cleaning bathrooms and taking out the trash.
"I like it here," he said. "There are nice people."
Donna Reasoner, an assistant manager at Burger King, said it's easy to see how happy Ed is with his job. He picked up on his responsibilities quickly and completes them with a smile.
"He loves it here, we are like his family," she said. "We all love having him here. We treat him like our own."