Early Intervention has helped Maci be the best she can be!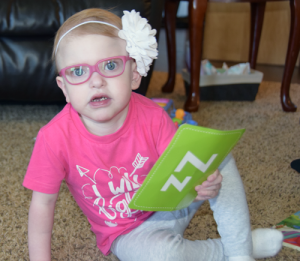 When the Whisner family moved from Mount Vernon to Heath almost two years ago, they were prepared for many changes.
But one transition that was easy for their daughter Maci was the switch to Licking County Early Intervention.
Maci, who just turned 3, began receiving Early Intervention services from the Knox County Board of Developmental Disabilities shortly after she was born.
The Licking County Board of Developmental Disabilities' Early Childhood team has been able to build on that strong foundation to help Maci make huge strides.
She is getting ready to start Mommy and Me gymnastics, is learning new words and signing to communicate.
These are huge accomplishments for Maci, especially since her doctors weren't sure if she would ever achieve them.
"All the suggestions and work (from Early Intervention) helped Maci be able to do what most kids with her syndrome are not able to do," said her mother, Karissa Whisner.
Karissa and her husband Josh was connected with the Knox County Board of Developmental Disabilities shortly after they brought Maci home from the hospital.
She was initially diagnosed with a serious heart defect, which was later discovered to be caused by Mowat-Wilson syndrome.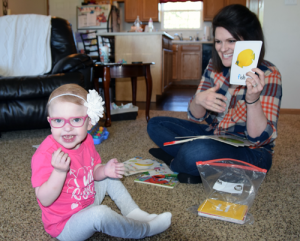 The syndrome affects many parts of the body and many children diagnosed experience developmental disabilities, difficulties with speech and delays in their motor skills.
Early Intervention (EI) services are available to Ohio children like Maci, from birth to age 3, with developmental delays, disabilities or medical conditions likely to result in delays.
"They were great to work with in Knox County and then they got us set up in Licking County," Karissa said. "They were great about making the process so simple and easy. Having kids with complex medical issues, you have a lot of jumping through hoops. But Early Intervention has always been a smooth process."
Maci faced many hospitalizations and complex surgeries at a young age. When she started Early Intervention in Licking County, she still wasn't able to crawl or walk.
After so many medical procedures, she also struggled with fear and anxiety about going to doctors and therapy appointments.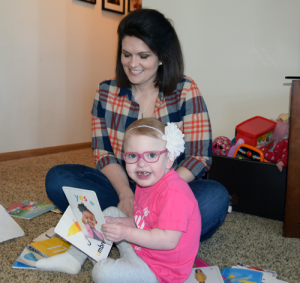 Having LCBDD physical therapist Annie Green come to their home to work with Maci made a huge difference, Karissa said.
"We get much better results from Maci when she can be in her home," she said. "Annie was able to think of practical things around the house to make our days easier at home."
As Maci grew, she went from walking with a walker to walking independently. She is constantly learning new signs and the Whisners are learning more about communication devices that she might be able to use.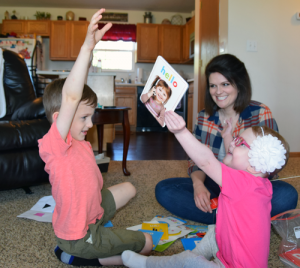 "We want her to be able to be a kid and have fun and do the things her peers and siblings are doing," Karissa said. "We want her to be able to tell us her wants and needs"
Maci loves to play with her big brother Jake and little sister Everly. She gets excited about  learning, reading books and doing flashcards. She knows her letters and shapes and her parents are hopeful she will be able to transition to preschool with support.
"She is getting there in her own time," Karissa said. "She will learn at her own pace, but she can learn. She can accomplish things that they never thought she could."
Now that she is 3, Maci will be working with an LCBDD developmental specialist and the board will continue to support her family as she grows, providing Family Support Services funds and connecting the family with additional resources.
Karissa and Josh said they are grateful for the great services they've received in both Knox and Licking counties.
"We want to help her be the best Maci she can be," Karissa said.