DSPs share their stories of why they love their jobs!
September 9 through15 is Direct Support Professionals (DSP) Recognition Week and LCBDD took the time to share stories from some of the DSPs in our county.
Jennifer and Nicole
The three men living in the house where Jennifer Cox and Nicole Walters work are often so busy on Saturdays that they have to DVR the OSU game to watch later on.
Being out and about on the weekends — and during the week — is a priority for the DSPs who support Bobby, Scott and Joe in their Newark home.
Recently they've taken trips to festivals, baseball games, museums, high school football games and the Newport Aquarium. They are planning a trip to Lake Erie to go fishing.
"It makes their lives more fulfilled if they are out doing things and it makes our jobs more fun," Jennifer said.
Jennifer has been a DSP with CSS, Inc. for 10 years. She was inspired to get into the field after helping in a special education classroom in her high school.
Over the years, Scott, Bobby and Joe have become a huge part of her life, she said. They visited her in the hospital when she had her son and her children look up to them as uncles.
"In this job, you take away as much as you give," she said. "We are all family!"
Nicole has been with CSS, Inc. for 22 years and has supported Bobby, Scott and Joe in their home for the last five.
"The first time I walked in the door I knew I was home," she said. "This house is perfect."
Whether they are planning a party to celebrate a birthday or working in the garden they started this summer, there is never a dull moment, Nicole said.
Being a DSP means caring about the people you support 24/7 — sometimes calling to check on them if they've had a bad day Nicole said.
But she can't imagine life any other way.
"It is just making a difference in peoples' lives. You can see positive changes," she said.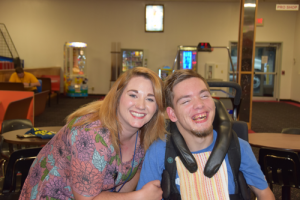 Connie
The first time Connie Wood ever went ice skating, she was with a group from PALS Chrysalis Health — working as a direct support professional.
They were all able to laugh together as they experienced something new for the first time.
Moments like those are why Connie has been a DSP at PALS for more than three years.
"It's extremely rewarding and you really get to know these people. They become a part of your life," she said.
After volunteering for Special Olympics, Connie knew she wanted to work in the field. She began working at PALS as an intern, completing her associate's degree in human services. That experience turned into a full time position after she graduated.
"I've never met a happier group of people in my life. There is never a day that's dull, there is always something fun and exciting happening" she said. "I learn new things from them all the time."
Laura
For Laura Perkey of PALS Chrysalis Health, being a DSP is not only a lifelong career, but a passion.
"I love the people," she said. "I get the opportunity every day to help improve someone's life."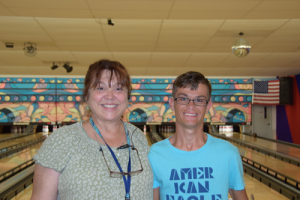 At PALS, Laura is both activities of daily living and art coordinator. She loves to be able "do it all" and help the people she supports have a variety of activities to choose from.
"You could make more money working in a factory, but at the end of every day, you helped somebody. You made a difference in someone's life…I'm rich in other ways," she said.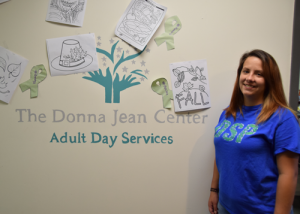 Tiffani
For almost two years, Tiffani Chavez has been a direct support professional (DSP) at The Donna Jean Center.
She got into the field after several friends recommended it and found it was a great fit.
As a DSP, one of her responsibilities is getting people out in the community and making sure they have the skills they need to be successful there.
She has been working with people she supports to teach them some basic sign language so they can communicate their needs. She's also helping them learn how to safely cross the street and understand traffic signals.
She enjoys seeing the people she supports enjoy new things like going on a picnic or visiting the Farm at Walnut Creek.
"It's very rewarding," she said. "You get off work and you feel like you are helping to make a difference in someone's life."
For more about how you can become a DSP, contact DSP Eligibility Specialist Brandy Body at  740-644-0344 or brandi.body@lcountydd.org.