SPARK's C4 offers events for the whole community.
Despite his family's urging, Steven Jacobs never used to want to leave the house.
But when he began attending community events at the C4 Community Center at the Indian Mound Mall, he started to change his mind.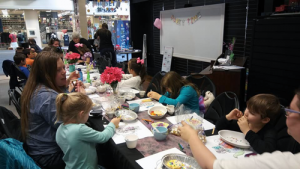 Now he is a regular volunteer — helping with decorations and taking photos — at a variety of activities.
"I like to get out," he said.
Since it opened in November, C4 has given Steven and others another opportunity to connect with new people and try new things, said Site Manager Margie Goodin.
The latest offering by the long time provider agency SPARK, C4 is the company's third location in the Indian Mound Mall.
C4 stands for character, community, creativity and commitment. Although the space provides day programming for adults with developmental disabilities focused on volunteering and getting out in the community — it also provides activities for the general public.
Every weekday from noon to 1:30 p.m., C4 hosts a community event, from BINGO and "Dancing to the Oldies" to pool and Wii games. A calendar is released every month and Margie said they are hoping to get the word out so more community members attend.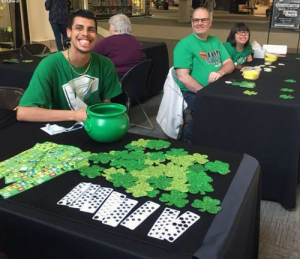 Their most popular activities have been their Family Fun Nights, held every Friday from 5:30 to 7:30 p.m.
Each event has a theme and anyone is welcome to come or volunteer, Margie said.
Some of their most popular events have been for special occasions, such as a Mother's Day tea or a Father's Day ice cream social, but they've also organized movie screenings, canvas painting parties and crafts nights.  Every month they hold a game night and, on the final Friday of the month, a dance party with a live DJ.
C4 offers a concession stand and SPARK participants help sell treats and drinks. They also take on set up and tear down, decorations and running the activities.
Not only are they connecting with the community but they are learning money skills, soft skills and the value of volunteering, Margie said.
"To me it's really important that the community gets to know our participants," she said. "They are learning a lot but also giving back to the community."
The events give C4 an opportunity to continue SPARK's successful partnership with the Indian Mound Mall. The mall's staff helps promote the events and assists with activities.
"C4 has been a great asset to the mall," said Joe Williams, general manager. "We collaborate on different things we do and it's been amazing to see people grow and experience new things.
C4 has also partnered with several mall businesses, including the newly opened bounce house business, Woo Hoo.
Most Friday nights, their events bring in between 25 to 100 people, including lots of kids, Margie said.
"They come here looking forward to what is happening next Friday," she said.
Margie emphasized that most events are free and anyone in the community is always welcome. A schedule can be found at C4, on the mall's website or by calling 740-587-0200.
"We are all about having fun and bringing the community together," she said.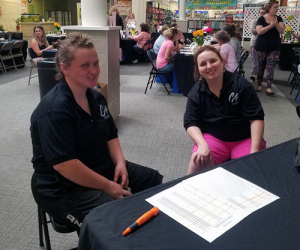 Since Angie Hughes started helping out with C4 events, she's been working hard to get more people involved.
"It's fun for me, having fun stuff to do with the community because that's SPARK's number one goal, to have participants be part of the community," she said. "It makes me really happy that we are trying our best to bring in more people."
Angie said the opportunity to volunteer at C4 events has helped her come out of her shell.
"I'm really grateful to have learned to be a part of my Newark/Heath community," she said.
For more information about C4, call 740-587-0200, visit their space across from Hibbett Sports, or go to facebook.com/sparklcounty.
Photos provided by Margie Goodin and the C4 staff.