Northridge graduate with love for writing receives statewide award for academic success.
As a high school freshman, Jason Turner was asked to complete a class assignment, choosing three songs and explaining the significance they had in his life.
When Intervention Specialist Jackie Livingston read the essay, she was touched by the deep emotions he expressed in the piece.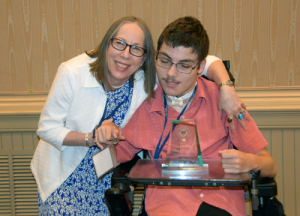 Over the next four years, Jackie watched Jason's writing continue to improve as he found his voice and began to truly express himself.
"He has a bright inquisitive mind," she said. "Enabeling him and assisting him to get his thoughts and wonderful ideas out, that's why you get into education in the first place."
Jason uses sign language and assistive technology to communicate. Sometimes it takes time to express what he wants to say, which can be challenging. But Jason never stopped trying, Jackie said.
That was the primary reason why Jackie, who recently retired from Northridge Local Schools, nominated Jason for the R.A. Horn Outstanding Achievement Award.
For the past 30 years, the Ohio Coalition for the Education of Children with Disabilities has presented the award to exemplary special education students. Jason was one of 16 students in the state of Ohio who was selected to receive the honor.
"He didn't quit," Jackie said. "This is an award that that recognizes an individual who has challenges and works to overcome those challenges."
Accepting the award on June 12 was a fitting ending for Jason's high school career.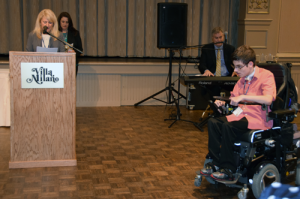 A lifelong Northridge Viking, Jason recently celebrated his graduation and now has his sights set on the future.
He recently completed a week-long camp to prepare to start the Transition Options in Postsecondary Settings, or TOPS, program at the Ohio State University Nisonger Center in August.
He's considering other post secondary options and is also thinking about writing a fantasy novel.
Although he's very humble about his accomplishments, Jackie's nominiation letter pointed out his many years of involvement at Northridge.
He was inducted in to the National Honors Society, participated in the Northridge High School board game club for several years and was most recently in the movie club. A lifelong lover of reading, he also participated in middle school Battle of the Books competitions, where he placed highly.
Taking journalism and newspaper as high school electives, he wrote movie reviews for the Viking Vault student newspaper.
"I liked his reviews because he has good wit and a sarcastic sense of humor," Jackie said. "He found his own voice and unique point of view."
On May 5, Jason was presented with the Alexandria Alumni Association Scholarship, which is given to a student who has attended Northridge schools their entire life.
Jason and his family moved to Licking County when he was 2 and he began receiving support from the Licking County Board of Developmental Disabilities.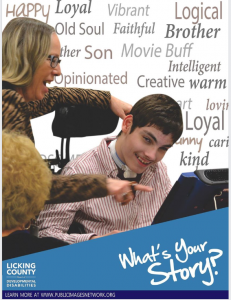 Several years ago, he participated in the Licking County Board of Developmental Disabilities' "Because of you,
we can" awareness campaign and was featured on billboards.
Jason has been a role model and Jackie said she is excited to see what the future holds for him.
"I believe there is a lot on the horizon for him," she said. "I hope he gets the chance to explore."
As he accepted the R.A. Horn award, Jason was supported by his parents, Kathy and Jeff, his younger brother Nick, Jackie, Cindy Hickey, his longtime nurse and Anita Mercurio, who assisted him one-on-one in the classroom for nine years.
"We are so proud of him," Cindy said. "He's done so great. He doesn't see it as anything huge, but he continues to marvel people."