LCBDD has launched an innovative program to help recruit and retain DSPs.
What is a DSP?
It's a job that it absolutely critical to the developmental disabilities field — but many have never heard of the job description.
A DSP, which is short for direct support professional, is paid to provide support to a person with a disability. That might mean taking someone to the store and helping them prepare food or helping a person with daily hygiene.
Some DSPs work to connect people with the community by taking people to events and helping them learn social skills. Others help people find jobs or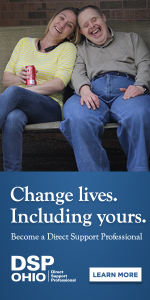 coach them on the skills they need to continue employment.
It's a job where every day is different, where flexibility is key and the fulfillment people get through helping others is immeasurable.
But locally, there hasn't been an organized effort to raise awareness about the position or the need.
"It's really difficult to recruit for this position, when no one knows what a DSP is," said Angie Finck, director of provider relations at the Licking County Board of Developmental Disabilities (LCBDD).  "People in our community don't know this is a job opportunity."
LCBDD is working to change that.
For many years, most DSPs entered the field by chance, or heard about their job through word of mouth. But as more people with disabilities access their community, the need for DSPs has never been higher.  Those models of recruitment aren't sufficient anymore.
DSP Employment Connections, a new initiative from LCBDD, uses several approaches to address the DSP workforce crisis.

The first aspect of the program stemmed from meetings that county board staff had with the leadership of local provider agencies.
When they were asked about the biggest challenge they were facing, they kept going back to staff turnover and recruitment challenges.
"They want to provide great services for the people they support, but being short on staff makes it incredibly difficult," Angie said.
Using provider feedback and suggestions as a guide, LCBDD's provider relations team created DSP Employment Connections, which takes the burden of screening potential DSP applicants off providers.
Providers who decide to participate in the customizable program receive assistance with onboarding applicants, at no cost.
Brandi Body, the first ever DSP Eligibility Specialist in the state of Ohio, was hired to work one-on-one with future DSPs.  On any given day, she meets with potential applicants, informs them of the responsibilities of the position, makes sure they meet the educational requirements and begins the process of submitting information for a background check and drug screening.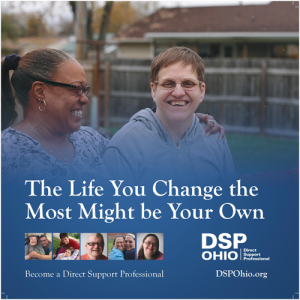 If applicants meet all the requirements, they are informed of open DSPs positions and can choose where to submit their application. Once they are hired, Brandi will follow up with them over the first months of their career to provide support.
Since the program started on Feb. 5, Debra Chamberlain, Licking County area director for Community Living Experiences Inc., has already hired two new DSPs who have gone through the screening process.
By initially meeting with Brandi and learning about the field, applicants get a sense of all the different options available to them and come to her excited about getting people out in the community.
"It brings out if they are truly interested in working with people with developmental disabilities," Debra said. "I am enthusiastic about this program."
While assisting with onboarding is a significant part of the Employment Connections program, those efforts are only effective when members of the community understand what a DSP is and how to enter the field.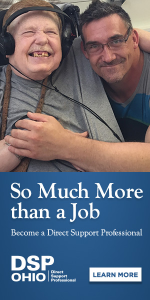 LCBDD has also launched a significant marketing effort to promote the DSP position and celebrate their contributions.
Radio ads and billboards, featuring real DSPs debuted in March and LCBDD is continuing to spread the word by attending job fairs, launching social media campaigns and reaching out to community partners.
Brandi has also been reaching out to local high schools and colleges, promoting the position as a way for students interested in helping others to get experience in the field.
Word is spreading and DSPs have been excited to see themselves featured in promotional materials.
For Gina Broseus, human resources coordinator for Consumer Support Services, it's been exciting to see DSPs get recognized, and different provider agencies come together.
"Everyone has been open and receptive to being able to work together to get ourselves staffed and get the people taken care of," she said. "That's the ultimate goal!"
To learn more about DSP Employment Connections, contact DSP Eligibility Specialist Brandy Body at  740-644-0344 or brandi.body@lcountydd.org.