Brenna McDaniel has found her niche working at the Goodwill store in Pataskala.
When Brenna McDaniel graduated from Watkins Memorial High School, she knew she wanted to get a job, but had an open mind about where she would work.
The right fit ended up being just down the road.
Brenna, 21, has spent more than a year working at the Goodwill store in Pataskala — just a few minutes away from where she lives with her family.
It's easy to see how much she enjoys working there, said her mother, Katie McDaniel.
"We've seen her have more of an outgoing attitude," she said. "She has more of a willingness to try new things. Her self esteem has really gone up. We are so happy."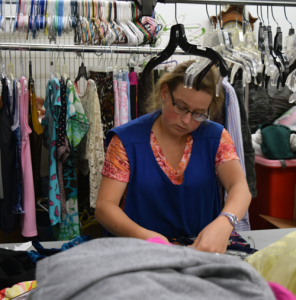 Brenna and her family moved to Licking County from Michigan several years ago and got connected with the Licking County Board of Developmental Disabilities through Watkins.
As a family, they wanted to develop a plan for what would happen after Brenna graduated, said her father Tim McDaniel.
LCBDD was able to connect Brenna with Opportunities for Ohioans with Disabilities, which connected her with several providers to help her find a job.
At first Brenna was considering working at a daycare, but also realized she had an interest in retail.
Although it took some time to find the right fit, Brenna didn't get discouraged.
"She had really strong support behind her," Katie said.
Teresa Valentino, Brenna's employment supports specialist, helped connect her with the Kairos Proteen Center, which placed her at the Pataskala Goodwill store.
That placement lead to a more permanent position after three months, Brenna said.
"I see this as being a job I'll have for a while," she said. "I really like what I do."
During her shifts, Brenna sorts clothes and other items, hangs up items, organizes the sales floor and helps straighten racks. She also accepts donations and helps customers.
Her coworkers appreciate her abilities to keep things neat and organized, she said.
Brenna said she really enjoys the culture of her workplace. Although everyone on their team works hard, they also take time to laugh together and have potlucks for birthdays and holidays.
Brenna said she's grateful to her store manager, Jenny Messer, for being flexible and supportive.
Jenny said they are also fortunate to have Brenna – who is a good fit for the store and a pleasure to work with.

"When you look at the schedule and see she is going to be here that day, it really brightens your morning," she said.
Brenna recently earned her first Goodwill star pin, for taking initiative.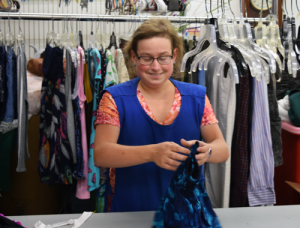 "She is a good worker, a self starter. In the morning she clocks in and gets right to work," Jenny said. "She gets along with everyone really well. They have a lot of fun, but they still get the job done."
Brenna has become good friends with several of her fellow employees and they spend time together outside of work — going swimming, to the amusement park and to the movies.
Katie and Tim said they are happy for their daughter and thankful to LCBDD for supporting her through her job search.
"She's always been set up for success," Katie said. "It's been a real blessing."
For more information about how the Licking County Board of Developmental Disabilities can help people navigate the path to employment, go to lcountydd.org/what-is-employment-supports.