SPARK is working to form more partnerships in the community and at the Indian Mound Mall.
June 14 was busy day at the two SPARK locations at the Indian Mound Mall.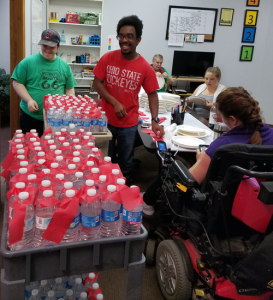 Inside SPARK Employment Strategies — located between Dick's Sporting Goods and Ulta Beauty — participants were hard at work creating shields and putting little red superhero capes on bottles of water.
At the art studio Blend, located next to Dunkin's Diamonds, artists were taking a break from their typical studio art projects to give back to the community —turning ordinary lollipops into super suckers, taping tiny capes and super hero logos on each one.
The group had just finished up helping the mall host a Dino Dig that brought close to 300 people to the mall. But there was no time to sit on their laurels. The mall was hosting a superhero-themed Father's Day event on June 17 and the SPARK participants had lots to do to get ready.
Some of them were even planning to volunteer to help during the event.
With two locations in Heath, SPARK has become an integral part of the community of businesses that make up the mall.
For Kati Sheets, a Blend artist, being in the mall and helping out with events is a fun way to give back. But it has also given her valuable experience working with others.
"I'm trying to get a job in the community," she said. "This will help me get ready."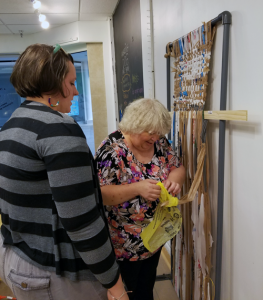 SPARK participants aren't the only ones to benefit from the partnership, said Linnea Gold, mall marketing director.
"I can't do this job without them, they are so important to me," she said. "They are the best support for me and I enjoy my job more because of them."
'Bridging the gap'
With a background as an adult day services provider, SPARK has developed strong ties to the Licking County community.
In 2015, the agency decided to take a new step, said Rochelle Andrews, site coordinator for SPARK Employment Strategies and Blend.
The manager for the Indian Mound Mall approached SPARK about moving some of its programs into a space at the mall.
For the SPARK leadership, it seemed like a logical next step, Rochelle said.
"We were looking for opportunities to be more integrated and less in our centers," she said.
SPARK's Inspiration Station and SPARK Academy moved into the mall and merged into the new SPARK Employment Strategies, or S.E.S.
Blend, formerly known as Studio SPARK, also moved into a mall space.
Both places gradually found their niche, Rochelle said.
To coincide with its mission of supporting people looking for community employment and helping them gain important skills to reach their employment goals, S.E.S. started SPARK Professional Apparel. The retail location sells clothing to the general public and offers free clothing to anyone preparing for a job interview or employment who doesn't have appropriate attire. SPARK participants gain experience helping out at the location.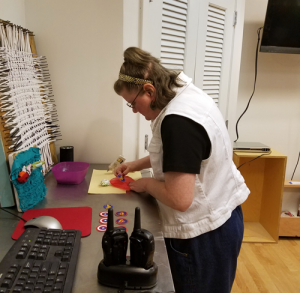 Blend evolved into a community art space, which is available to host parties and other events.
SPARK was recently awarded a Building Innovative Service Models grant from the Ohio Department of Developmental Disabilities to continue expanding its presence in the community.
As they work through the planning process, the relationships they have built in the mall will provide a great foundation, Rochelle said.
"I think part of the perks of being in the mall was for us to start really bridging the gab between being segregated on a daily basis and interacting with our community and being a part of it," she said.
'A light bulb came on'
When Linnea began her job as mall marketing manager, her goal was to bring more people out to Heath and make the mall a community center.
She invited SPARK to help her with a few smaller events and asked that they plan some crafts and games for an upcoming superhero event.
The event drew a large crowd and SPARK's help made all the difference, Linnea said.
"It was a huge success and then a light bulb came on," she said. "We realized that this is a true partnership that will work positively both ways."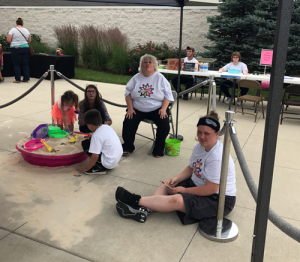 SPARK  participants began helping at more events, with positive results.
"They are gaining confidence, they are starting to talk to people more," Linnea said. "They are understanding their roles better. They are getting out of their comfort zone and trying to do other things."
The success of the mall partnership also gave SPARK an idea for a new opportunity.
This year, the Licking County Board of Developmental Disabilities offered providers the opportunity to apply for community engagement grants to support innovative ideas to promote integration.
SPARK applied for and received an $11,000 grant from LCBDD to start a program called Community Connections.
Community Connections
Instead of creating new events for people with disabilities to participate in, Community Connections is designed to support people as they volunteer at already existing events.
Not only do participants get the chance to form new friendships and professional contacts, but they also get more comfortable volunteering. Ultimately the goal is that they will be able to volunteer on their own, or branch out and seek out other opportunities to give back, Rochelle said.
"The goal is to help participants interact with the community in a more permanent way," she said. "We want to bring our participants together with other agencies and organizations that they can work with on a continual basis."
So far they have partnered with Denison University, First Presbyterian Church of Newark, YES Club, Horizons Upward Bound, Ohio Means Jobs, the Heath Community Arts Council, the cities of Heath and Pataskala, the mall and the Canal Market District.
In the first three months of the program, Community Connections provided volunteers for eight events, reaching more than 1,100 people. More events are planned for this summer.
The program is open to anyone who would like to volunteer, not just SPARK staff and participants, Rochelle said.
"Community Connections allows others to see people with disabilities and focus on their abilities and gifts, things people can bring to the community," she said. "We want to make connections a reality."
Many people who routinely attend mall events are beginning to recognize volunteers and build relationships.
Linnea said she has been talking to other malls about the success of the partnership.
"I feel very blessed that they are here," she said. "I have gained so many new friends."
For more information about SPARK or to volunteer with Community Connections, go to http://sparkllc.org.ceranethost.com/, call 740- 334-3971 or email ses@sparkllc.org.