Marissa Diamond, 16, loves creating art and animation.
Ever since she started talking, Marissa Diamond has been telling her family how much she loves creating art.
Whether she's drawing with crayons or working on animations on her computer, she is passionate about creating colorful characters.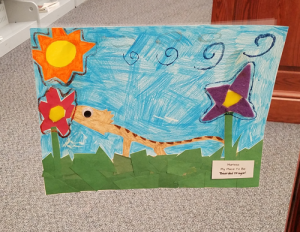 For the second year in a row, Marissa's artwork can be seen in the children and teens department of the downtown branch of the Licking County Library. Her work, and the work of other children and teens who participate at My Place To Be and The Learning Spectrum, will be on display until May 8.
Marissa's mother, Kate Diamond, began collaborating with the library on the art display last year.
She was looking for a place to showcase some of Marissa's creations and reached out to Amy Gantt, the library's head of teen services.
Amy was so supportive, Kate decided to open the opportunity to other children on the autism spectrum.
"This is a way for them to show their talents as opposed to their deficiencies," Kate said. "We wanted to give them an outlet to put their artwork up."
The artwork remained up at the library through the month of April, for Autism Awareness Month. The artists got so much positive feedback on their work that Kate decided to make it an annual event.
At first Marissa was apprehensive about displaying her work, but now she's excited every time she gets a comment card with a positive note.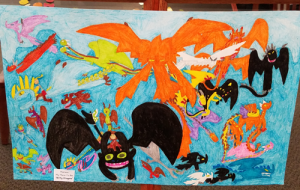 This year, many of her pieces are of animals, including dragons, or depict scenes from her favorite animated films.
Marissa, 16, loves cartoons and animated movies. Her dream is to be an animator for Disney or Pixar.
She's working to achieve her dream by taking classes at My Place to Be to get certified in the Toon Boom animation software.
She is also working on her own cartoon, called "Fridamania."
The main character is a young girl named Friday who travels with her best friend through a portal to Imaginationland.
Marissa has been working on storyboards for the show. Her hope is to be the animator and the voice actor for the project.
The Licking County Board of Developmental Disabilities has been supporting Marissa since she was 4 years old. Right now, she and her family are working with a service coordinator and employment supports specialist at the board to help her reach her goals.
When she isn't working on art, Marissa, who is home schooled in Newark, participates in programs at My Place to Be, where her mother is an active volunteer.
She is active in Special Olympics track, powerlifting, basketball and cheerleading.
She also loves dogs and volunteers at the Knox County Humane Society. She is considering starting her own dog walking business one day.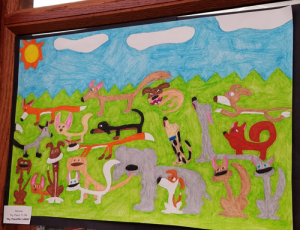 Marissa and her family are also working on starting a business where she can create art for clients. Right now, she is in the process of creating several pieces for the upcoming My Place To Be golf outing, featuring golf and Hello Kitty.
She enjoys being busy with projects and sharing her work with others.
"I love it," she said.
Learn more:
Marissa's art, and the art of other children and teens participating at My Place To Be and The Learning Spectrum will be on display until May 8 in the children and teen's section of the downtown branch of the Licking County Library, 101 W. Main St., Newark.