After a busy high school experience, Jarrod Aberegg is preparing for prom and graduation.
Jarrod Aberegg's high school graduation announcements just arrived at his Heath home.
He's getting ready to pick out his tux for prom — he's thinking about gray and purple to match his date's dress — and has already picked out the restaurant they'll go to before the dance.
For his parents, Ben and Becky Aberegg, graduation is a bittersweet time filled with memories. But they are thrilled that Jarrod has accomplished so much during his high school career.
That's one of the goals they set for him when he was diagnosed with periventricular leukomalacia — a form of white matter brain injury — about 15 years ago, Ben said.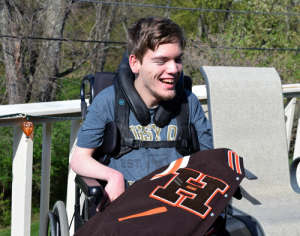 "We want him to be active in the community. We want him to be accepted, happy and included in community events, an equal part just like anyone else," he said.
Jarrod has been a Heath Bulldog since he started school and began playing drums in his school band in fifth grade.
He's performed with both the Heath High School marching and concert band for the last four years, helped out with two school plays and is active in his youth group at Vineyard Grace Fellowship.
He loves watching high school sports — especially baseball, softball, football and baseball.
He was also recently chosen by his peers to represent his class as one of the six boys on the Heath prom court.
Through it all, Jarrod has had tons of support from his family, friends and teachers. But he's been the one driving his involvement, Ben said.
"We want him to be happy, healthy and loved and do what he wants to do in life," Ben said. "But he has to set the goals."
Jarrod, 18, has been supported by the Licking County Board of Developmental Disabilities since his diagnosis.
"As a parent, my goal, since he was 3, was to give him all the tools that are available to him — the Board of DD is one organization that has helped with that — to be as successful as he wants to be." Ben said.
For most of Jarrod's band career, Becky was his main support system. She was able to flex her work schedule to be with him at football games and other events.
Last summer, Ben was able to retire from his job and get more involved — attending band camp with Jarrod and marching with his son throughout football season.
"I wanted to make his senior year as special as I could," Ben said.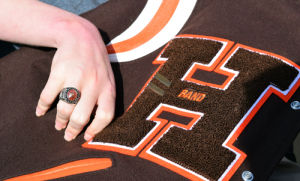 Over the years, Jarrod has had the opportunity to attend close to 40 concerts as well as countless Indians and Clippers games.
He's been recognized by the Licking County Settlers for being a dedicated fan and recently had the opportunity to spend time with the Newark Catholic football team during their postseason.
No matter where they go, people recognize Jarrod's enthusiasm and kindness.
"He's been fortunate enough to experience lots of things like that," Ben said.
As high school comes to an end, Jarrod is going to be looking for new ways to stay involved in the community.
Although he is apprehensive about leaving his friends and favorite activities, his support team will be there for him as he transitions and decides what's next, Ben said.
"We'll support him wherever he wants to go," he said.