The Licking County PAWS Pet Club is marking its fifth anniversary and going strong.
It all started in 2012 with a simple idea.
Dora Young-Ford, a service coordinator at the Licking County Board of Developmental Disabilities, knew that many of the people supported by the Board had pets they adored.
She decided to create a club for animal lovers, dedicated to celebrating different types of pets.
"There were just so many people who just love their pets and have never been part of a club," she said.
Now, in its fifth year, the Licking County PAWS Pet Club has between 15 and 20 regular participants. Members are so involved that Dora has been able to step back and give them the freedom to take ownership of the group.
Open to adults supported by LCBDD, PAWS meets five times a year, either at PALS in Heath or at the Great Circle Earthworks in Newark, depending on the weather.
Over the years, they've had many interesting animal guests, such as dogs and cats, lizards, hedgehogs, goats and a pig.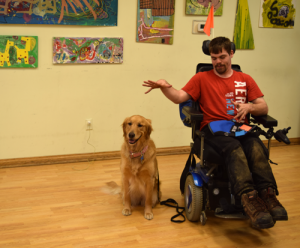 At a recent meeting, club member Zach Werner, brought his service dog Sophie and shared his story of how he got her three years ago and some of the ways she helps him.
He reminded the group that, if a doctor recommends a service dog, its veterinary care and training can be covered under a waiver.
Over the years, PAWS has had a number of interesting presenters, Dora said.
Staff members from the Licking County Humane Society, the Licking County Animal shelter, dog groomers, trainers and members of animal rescue groups have all been speakers.
They've learned about police dogs, search and rescue dogs, military dogs and even dogs that sniff out bedbugs.
Club members and LCBDD staff members have presented on their pets. The club also has a vibrant Facebook page, where members can post pictures of their animals.
It's been wonderful to see the group grow, but the best part has been seeing how many positive relationships have developed, Dora said.
Now many members get together outside of club meetings to do things with their pets and have fun.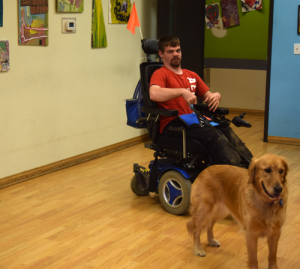 "It's great that they have made friends who are interested in the same things they are interested in," she said.
Learn more:
The PAWS Pet Club will meet at 4:30 p.m. on the following dates in 2017. Presentations typically begin around 5 p.m.
June 6
Sept. 12
Nov. 14
Dec. 12
For more information about the club, contact Dora Young-Ford at 740-788-3725.