Kathy Moore, of Newark, has found a job she loves at the Kroger Marketplace.
Kathy Moore had always liked shopping at Kroger.
So when she found out the store in Newark was hiring — in preparation to move to its new Kroger Marketplace location on North 21st Street — she saw a new career opportunity.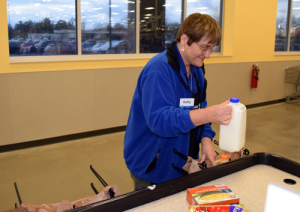 "I didn't want to work anywhere else," Kathy said. "It was time for a change."
Kathy has been working as a courtesy clerk at Kroger since October and has had nothing but positive comments from customers, said Chris Thacker, customer service coordinator.
"Her smile is infectious, you can't help but be happy when you are around Kathy," Chris said.
A long time resident of Newark, Kathy has had a variety of jobs, working at Cherry Valley Lodge and the Lazy River Campground.
For 10 years, she worked at THK Manufacturing  in a sheltered environment, building boxes and endplates.
Although she was able to successfully run her own area, Kathy decided that the job didn't match her outgoing personality. She wanted to be in an environment where she was around more people.
"I was ready to move on," she said. "I was excited."
In 2016, she connected with the Employment First project to take that next step.
Established in Licking County in 2013, Employment First is a statewide program dedicated to helping people with disabilities who have been in segregated work environments transition into competitive jobs in their communities.
Locally, the program has had 49 participants through a partnership with the Licking County Board of Developmental Disabilities (LCBDD), Opportunities for Ohioans with Disabilities (OOD) and local service providers.
LCBDD was able to connect Kathy with OOD and LICCO Inc. — which helped her with her resume and interview skills, as well as the application process to work at Kroger.
When Kathy was offered a job, working about 16 hours a week, she was thrilled.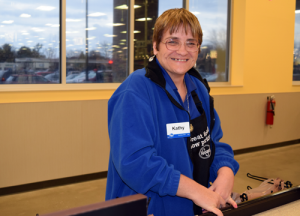 "I really liked the hours and the people are really nice. There are really awesome people here," Kathy said.
As a courtesy clerk, she helps bag groceries, organizes carts and helps customers take bags out to their cars.
She enjoys working in the evenings so she can spend the morning with her friends at The Gathering Place.
"It's a good store to work at and the people are good," Kathy said. "I'm glad I'm working here. I was so happy when I started."
Although Kathy had never worked in a grocery store before, it's clear the job is a great fit for her, Chris said.
"She is so happy all the time, she never complains, she always comes to work,"  she said. "She's a true joy to work with."
For more information about Employment First, go to ohioemploymentfirst.org.