The new Aktion Club of Licking County received its official charter on Dec. 12.
The Licking County Board of Developmental Disabilities was thrilled to be a part of the Aktion Club of Licking County's Charter Celebration, held Dec. 12 at the DoubleTree by Hilton in Downtown Newark.
Aktion Club is a service organization for adults with disabilities that was founded by the global service organization, Kiwanis International almost 30 years ago. There are now 12,000 Aktion Clubs all over the world.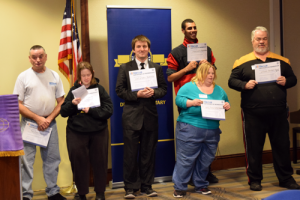 Clubs are member-led with a board of leaders — and participants have the opportunity to complete service projects they believe are important to the community.
Members of the local Newark, Granville and Heath Moundbuilders Kiwanis Clubs came together to sponsor the club over the summer and provide ongoing support to members and partner in service.
Receiving financial and organizational support from the Licking County Board of Developmental Disabilities, the club meets twice a month — offering an afternoon and an evening meeting — rotating among various provider agencies in Licking County.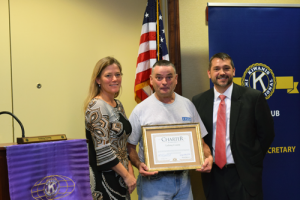 At Monday's celebration, officers and members of the Aktion Club were recognized and Club President Ray Shaw accepted the official banner, gavel and charter, dated with the club's official charter date, Sept. 1, 2016.
Officers of the new club are President Ray Shaw, Vice President Irene Flowers, Secretary Carl Gruber, Treasurer Brandon Music, Historian Ashley Blankenship and Sergeant-at-Arms Jordan Gaiters.
Members of the Board of Directors are William Butcher, Bryon Ferrin, Brittany Ferrin and Robert George.
The Aktion Club is in the process of fundraising and planning new service projects. The club is currently seeking new members.
For more information, go to aktionclub.org, or contact David McManus at the Licking County Board of Developmental Disabilities at 740-349-6588 or david.mcmanus@lcountydd.org.