Early Intervention has helped 2-year-old Miranda Watson learn to speak her mind.
Miranda Watson loves riding her horse Bailey.
She's learned to click her tongue to get Bailey to go, asks her to trot and tells her, "Whoa" when she wants to stop.
She also proudly describes all her barn chores including cleaning her horse's stall and rubbing hoof oil on her feet.
For her mother, Arria Watson, hearing Miranda share details about her horse is a big milestone.
Miranda, of Newark, has a speech delay and for the first two years of her life, she struggled to communicate.
But in the last five months, since she began receiving support from the Licking County Board of Developmental Disabilities (LCBDD), she's made lots of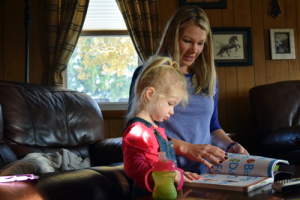 progress.
"(LCBDD) stepped right up to the plate," Arria said. "They were there for us."
As she grew, Miranda was hitting all the developmental milestones, except learning to talk, her mother said.
Although she would make lots of sounds, Miranda wasn't using words or putting sentences together.
Arria tried to communicate with her daughter using some sign language, but she started to worry that because of her delayed speech, she wasn't learning her letters, numbers or colors.
Their pediatrician connected them to Nationwide Children's Hospital, who referred them to LCBDD, which provides Early Intervention to local children from birth to age 3 who have developmental delays or a diagnosis that could lead to a delay.
Early Intervention services in Licking County are funded primarily by the Licking County Board of Developmental Disabilities local tax levies.
Working with Service Coordinator Claudia Cook and Speech Therapist Janelle Pickens, Arria and her husband Bill began coming up with goals for Miranda.
"The biggest thing was to have someone who knew where we should start," Arria said. "Janelle helped us with tips to get her to start talking."
Over the last five months, Miranda has come a long way.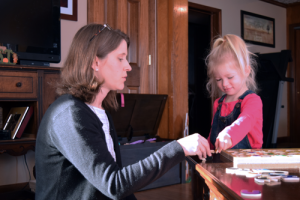 Now she can tell her mother what she wants for breakfast and what toys she wants from her toy box.
She's still working on saying words more clearly, but Arria is confident that she's on the right track. She's hoping that Miranda will start preschool soon and continue to expand her vocabulary.
Both she and Miranda have enjoyed working with Janelle and look forward to seeing her.
"I really appreciate that Janelle pays attention to Miranda and what she has to say, she makes her feel like she is important and included," Arria said. "It's not just about getting her to talk, it's been about getting to know her as a kid."
For more information about Early Intervention or the Licking County Board of Developmental Disabilities, go to lcountydd.org/parentsupport/.