LCBDD has helped connect Layla Messerall with one of her favorite activities – therapeutic horseback riding.
For a little girl who likes animals, Hope Farm in Granville can be an amazing place.
Layla Messerall, 4, looks forward to her weekly therapeutic riding sessions at the farm so she can visit her favorite while pony, Stormy.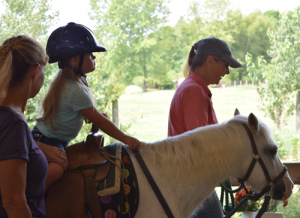 Not only has she been having fun — since she started riding at the farm in April, her core strength has improved and she's getting more comfortable giving the horses verbal commands, said her mother, Jessica Messerall.
She's learning about colors and shapes and having a great time doing it.
Layla, of Frazeysburg, was born with Down Syndrome.
When she was a baby, her family received services from the Knox County Board of Developmental Disabilities — which helped her parents navigate the system and provided Early Intervention.
When the Messeralls moved to Licking County, Layla was 2. LCBDD Developmental Specialist Diane Dodson took the lead, connecting their family with resources and helping them get Layla ready for preschool.
Using LCBDD's Family Support Services program, the Messeralls were able to provide Layla with additional speech therapy.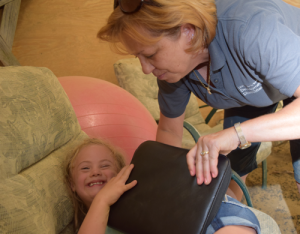 Family Support Services funds are available to board-eligible children, adults and families to help them acquire goods, services and supports that address the special needs of their family member with a disability.
They were also able to enroll Layla in Project Lifesaver, which provides a personalized transmitter to each individual, so they can be located quickly.
Diane also connected the Messeralls with Hope Farm, which provides therapeutic riding for children and adults.
It's been a great experience and her parents have seen her language skills and attention span increase, Jessica said.
"She's really doing awesome," Jessica said. "It's just phenomenal. This is a really calming place for her."
For more information about Hope Farm, go to hopefarmgranville.com.
Save