Pataskala resident Benjamin Harberts, 4, loves to play with trains and create art. He and his family are supported by teams from LCBDD and Children's.
Benjamin Harberts loves trains.
One of his favorite games is to put pieces of track together and send his Lego train around and around.
So when Benjamin was invited to represent the Center of Autism Spectrum Disorders as a patient champion for the 2016 Nationwide Children's Hospital Columbus Marathon on Oct. 16, his parents, Kirsten and Jonathan, knew they wanted to focus on a train theme.
Visitors to Mile 17, which will be known as The Clickety Clack Mile, will get to see the Pataskala 4-year-old and his family. His mother Kirsten said she's thankful for the opportunity to share Benjamin's story and talk about the support he's received from the Licking County Board of Developmental Disabilities (LCBDD) and Children's.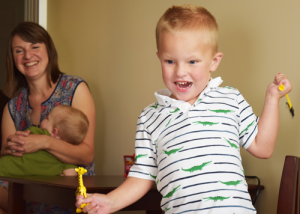 "I'm really happy that we get to be there for any other child who has autism," Kirsten said. "We just want to raise awareness of autism, what it is and what it means and what therapies are available."
'It's been a fabulous experience'

The Harberts family was first introduced to LCBDD through its Early Intervention program. As a baby, Benjamin had several developmental delays and was able to receive Help Me Grow services.
Working with Service Coordinator Beth Rutter, Benjamin received speech therapy at home and worked with developmental specialist, Diane Dodson.
"It was amazing to have that kind of support," Kirsten said. "They really teach the parents to help the child."
While working with Benjamin, both his parents and LCBDD speech therapist Janelle Pickens noticed he was demonstrating some signs of autism and worked together to get him tested.
When he received his autism diagnosis at age 2, staff members at LCBDD were there to help Kirsten and Jonathan navigate all the different options that were available.
Because Benjamin has apraxia — a motor speech disorder — Pickens helped introduce the family to a pictorial system of communication. Now Benjamin uses a LAMP app on an iPad, pointing at pictures to help him express his wants and needs.
It's been two years of hard work and countless hours working with therapists but Benjamin has made huge strides in his behavior, his communication and his social skills. He loves working on art projects, playing in water and building with Legos.
Being diagnosed as a 2-year-old and starting therapy early made a big difference, Kirsten said.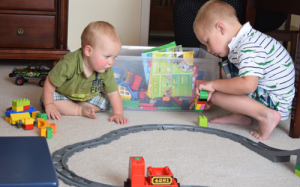 Benjamin continues to be supported by LCBDD's Early Childhood program while the agency's Early Intervention team supports his younger brother Elliott, working with him on several developmental delays.
Dodson comes to their home once a month, offering different strategies to help Benjamin gain life skills.
"She's like my second set of eyes," Kirsten said. "It's been a fabulous experience to have all that support and we are just so grateful because we know that tax dollars pay for these services. We are so thankful to be recipients."
Learn more
The Nationwide Children's Hospital Columbus Marathon will be held on Oct 16. For more information about Benjamin's role as a patient champion, click here.
Save
Save
Save
Save
Save
Save
Save
Save
Save
Save