50th anniversary celebration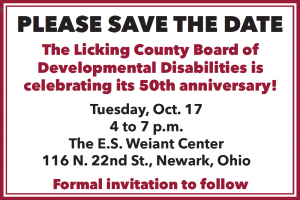 The Licking County Board of Developmental Disabilities will celebrate its 50th anniversary in our community with a special event!
Please join us between 4 and 7 p.m. on Oct. 17 at the E.S. Weiant Center, 116 N. 22nd St., Newark.
There will be an open house from 4 to 6 p.m. with historical items on display, light refreshments and activities for children. A special presentation, commemorating our anniversary, will begin at 6 p.m.
For more information, please come back to this page, which will be updated as it gets closer to our event. You can also contact Public Information Officer Anna Jeffries at 740-322-6911 or anna.jeffries@lcountydd.org.